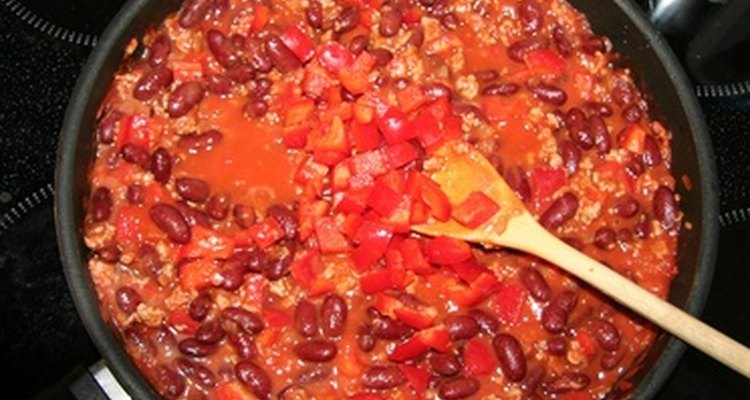 chili con carne image by bierchen from <a href='http://www.fotolia.com'>Fotolia.com</a>
No matter the season, chili is an American favorite. Served with guacamole and sour cream at a summer picnic, or with hot cornbread on a cold winter evening, this chili recipe with carne asada steak is sure to become a fast favorite. The secret ingredient will keep guests guessing and make your chili unforgettable.
Trim the round steak, discarding fat and sinew. Cut the steak in half, then start cutting it into thin strips about 1/2 inch thick. Place in a plastic zip bag or freezer bag. Add the lime juice, a sprinkling of sea salt and the chopped cilantro. Seal the bag, getting as much air as possible out of the bag. Turn the bag over a few times to coat the steak with herbs and juice. Place in the refrigerator for at least one hour.
Heat olive oil in the bottom of a large stew pot. Add the onion, garlic and celery and cook, stirring often until the onion is tender. Remove the steak strips from the bag, draining off the juice and add to the pot. Cook on medium-high to brown the meat, then reduce heat to medium.
Add V-8 juice, tomatoes and beans. Cook on medium until bubbly. Add the sugar, spices and chocolate and reduce heat, or place in a crock pot on medium heat. Allow to simmer for at least one hour, or you may allow it to cook up to eight hours in the crock pot.
Tips
Summer: serve topped with a dollop each of guacomole and sour cream.
Winter: serve with regular or jalapeno cornbread.
Anytime: top with grated cheese, corn chips or scallions.
Writer Bio
Robin Devereaux has been writing professionally for more than 25 years. She has written for "The Sowell Review, "Health and Healing Magazine" and has been a contributor to several local Eastern Michigan publications. Robin is a graduate of the Central Michigan University Arts Program.
Photo Credits