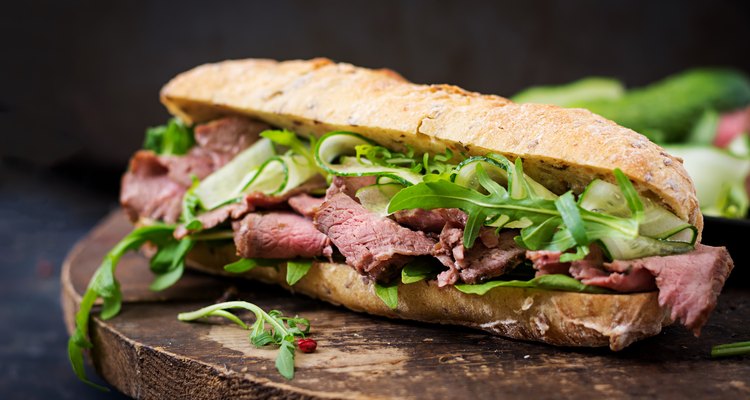 Elena_Danileiko/iStock/GettyImages
Just as Special the Second Time Around
Prime rib deserves special treatment, whether you serve it whole on your holiday table or as leftovers in sandwiches. If you're a purist, you can't go wrong with a sandwich of meat, bread and a sprinkling of salt and pepper. But with a few extra touches, a prime rib sandwich becomes even better. This recipe adds complementary flavors and textures to your sandwich without undercutting the beef. It avoids the conventional au jus sandwich with chemical-tasting, canned beef stock or prohibitively expensive gourmet stock. and it omits melted cheese, which can mask the beefy taste of the prime rib.
Total Time: 25 minutes | Prep Time: 25 minutes| Serves: 4
1 pound prime rib
2 tablespoons vegetable oil
2 cups onions, sliced
1/4 teaspoon kosher salt

1/8 teaspoon ground black pepper
2 cloves garlic, minced
1/2 cup mayonnaise
2 teaspoons Dijon mustard
1 teaspoon balsamic or red wine vinegar
4 oblong hoagie or kaiser rolls
5 tablespoons butter, softened
2/3 cups arugula or parsley leaves
Slice the beef thinly and let it sit at room temperature while you assemble the rest of the sandwich ingredients. You'll be able to taste the flavor and smell the aroma of the meat more when it warms up slightly.
In a large skillet, heat the oil over medium low, and add the onions, salt and pepper until the onions soften and caramelize to a light brown color, about 15 minutes.

Add the garlic to the pan and cook for 30 to 45 seconds, until you can smell the garlic. Let the onions and garlic cool in the pan.
In a small mixing bowl, whisk together the mayonnaise, mustard and vinegar until the ingredients are well blended.
On a baking sheet, lay out the sandwich rolls, and butter each side. Place the rolls under the broiler until the bread turns a light, golden brown and is just beginning to char around the edges.
Assemble the sandwiches by spreading the mayonnaise dressing on both sides of each roll and layering the roast beef, onions and arugula or parsley leaves on top.
References
Writer Bio
Susan Lundman began writing about her love of cooking, ingredient choices, menu planning and healthy eating after working for 20 years on children's issues at a nonprofit organization. She has written about food online professionally for ten years on numerous websites, and has provided family and friends with homemade recipes and stories about culinary adventures. Lundman received her M.A. from Stanford University.