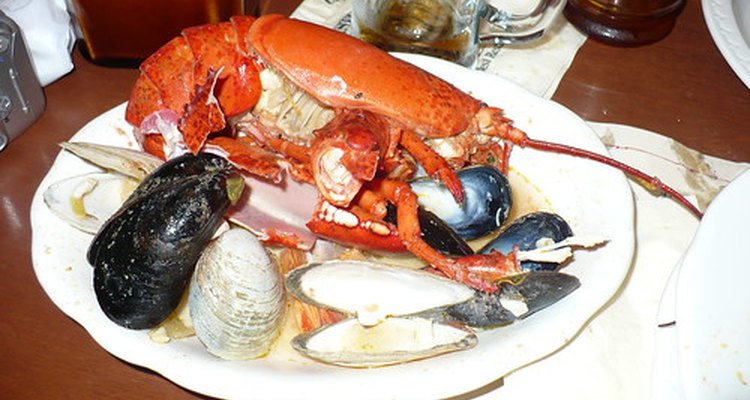 Image by Flickr.com, courtesy of Jim Reynolds
The only thing better than a nautical-themed dinner with friends is actually being out on the beach. Make your next dinner party unforgettable with some ocean breeze candles, sea shell centerpieces and a fabulous selection of easy and delicious seafood.
Drinks
Dissolve a packet of blue jello in two cups of hot water. Mix in two cups each of sugar, cold water and pineapple juice. Freeze until ready to use, then mix with Sprite or ginger ale for a bubbly ocean-blue treat.
Appetizers
Shrimp cocktail will keep guests happily munching until dinner is served. For those who dislike shrimp, offer a tray of stuffed clams or quahogs.
Soups
Serve up bowls of clam chowder and oyster crackers. Chowder can either be red or white. Red chowder is native to New York or Manhattan, while the thicker, creamy white version is known as New England clam chowder.
Main Dishes
Shrimp scampi with garlic bread makes a great main dish. This option is perfect in case you have a guest or two who dislike seafood--they can skip the shrimp and just eat the pasta and garlic bread.
Dessert
Top off a delicious meal with a creamy cheesecake. Set out plain cheesecake and bowls of blueberries, strawberries and cherries as well as chocolate, strawberry and caramel ice cream toppings. Allow guests to make their own cheesecake creations.
References
Writer Bio
R.J. Bowman has a Bachelor's degree in accounting with a minor in English from Pensacola Christian College. After college, she taught English to seventh graders until becoming a mom. At that time, she found freelance writing to be a great way to keep her writing skills sharp.
Photo Credits
Image by Flickr.com, courtesy of Jim Reynolds