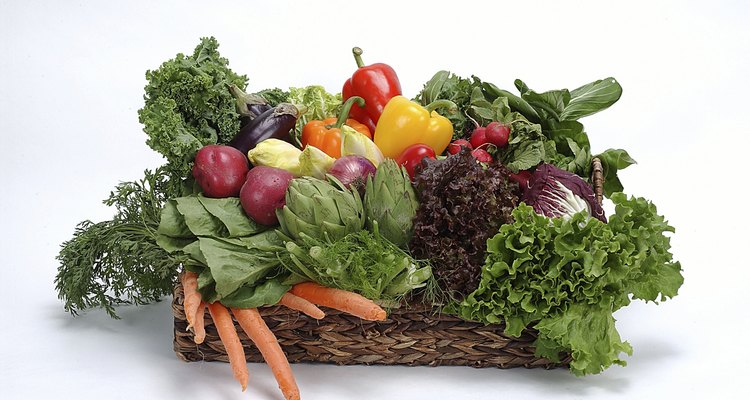 Ablestock.com/AbleStock.com/Getty Images
It's easy to plan an entire menu around salads when the possibilities are nearly endless, particularly when you think outside the greens. Use a variety of fresh produce with meats, cheeses and nuts for complete nutrition. Salads are a creative and fun way to get lots of fruits and vegetables into kids, and busy moms will appreciate how fast most of them are to make. Serve your luncheon as a buffet; adults will appreciate the presentation while kids will enjoy serving themselves.
Starter
Salads are a traditional start to a meal, but you can change how you present them. Serve a spoonful of creamy coleslaw in wonton cups that are baked in a mini-muffin tin, perfectly sized for little fingers. A Southwest-inspired salad of beans, corn, tomatoes, cilantro and lime juice also works well in the cups. Season the beans with a ranch-flavored dry mix for a kid-friendly flavor. Make chicken salad with orange pieces and walnuts and place inside half of a hollowed-out orange, leaving a thin layer of flesh for flavor. Put the orange half a bed of chopped lettuce for stability. In place of the mayonnaise, use a creamy balsamic dressing to highlight the citrus flavor of the oranges.
Entree
Keep main course luncheon salads light and refreshing. Toss dark, leafy greens and creamy dressing with turkey and honeydew melon or white beans, olives and colorful bell pepper slices. Kids love fruit, so serve strawberries or pears on a bed of baby spinach and top with nuts and a fruit-based vinaigrette or creamy balsamic dressing. For a twist on a traditional favorite, wrap a lettuce leaf around a scoop of tuna salad and secure with a toothpick. Give your traditional tuna salad recipe a new twist by replacing the mayonnaise with ranch dressing. Make pasta salad with shaped pasta such as bow-ties and sweet grape tomatoes, olives and low-fat sour cream or light creamy dressing.
Dessert
Fruit salad is an easy and healthy dessert, but to jazz it up sprinkle toasted coconut on top and very lightly drizzle with chocolate sauce. You can also mix fresh berries with lemon yogurt or toss tropical fruits, such as pineapple and mango, with chopped fresh mint leaves. Don't overlook vegetables as dessert. Kids will be on board when they see grated carrots mixed with raisins, dried cranberries and vanilla yogurt.
Accompaniments
Keep accompaniments simple to allow your salads star billing at your luncheon. Offer plates of small biscuits made with cheddar or Parmesan cheese. Use whole wheat for the added fiber. Serve bruschetta brushed with olive oil and sprinkled with herbs or dry salad dressing mix, and tell the kids it's baby toast, or arrange simple breadsticks in a tall vase. Small cubes of cheese and meat speared with toothpicks are easy to eat alone or add to salads.
References
Writer Bio
Since 1997, Maria Christensen has written about business, history, food, culture and travel for diverse publications. She ran her own business writing employee handbooks and business process manuals for small businesses, authored a guidebook to Seattle, and works as an accountant for a software company. Christensen studied communications at the University of Washington and history at Armstrong Atlantic State University.
Photo Credits
Ablestock.com/AbleStock.com/Getty Images