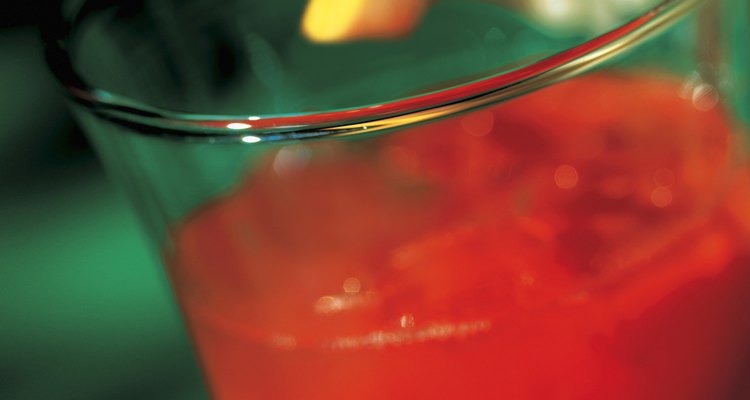 Stockbyte/Stockbyte/Getty Images
Watermelon vodka is created when the ripe, juicy taste of watermelon is distilled in crisp vodka. You can buy watermelon-flavored vodka or make your own by infusing chunks of fresh watermelon in plain vodka. Store-bought watermelon vodka tends to be sweeter than the homemade variety but either way you can use it to create delectable cocktails to cool you off in the heat of summer, or to enjoy throughout the year. The fresh watermelon flavor blends well with a variety of juices, sodas and spirits.
Simply Refreshing
The sweet, smooth taste of watermelon vodka makes a refreshing cocktail when mixed with lemon-lime soda. Add 2 ounces of vodka to a glass filled with ice. Then top with the soda. Serve the drink garnished with a lemon wedge. To make this drink lower in calories, use plain soda water in place of the lemon-lime soda. Mix a shot of watermelon vodka with cranberry juice for a tasty, simple cocktail. Serve the drink over ice and garnish with lime. Watermelon vodka also mixes well with lemonade, orange or pineapple juice.
Luscious Martinis
Jazz up an ordinary cosmopolitan by adding watermelon vodka along with the other ingredients. Add 2 parts plain vodka to 1 part each triple sec, watermelon vodka and cranberry juice to a cocktail shaker filled with ice. Add a splash of lime juice and shake until blended. Serve in a martini glass rimmed with fine sugar and garnished with a lime wedge. Create a watermelon martini by mixing equal parts plain vodka and watermelon vodka with a half part of fresh watermelon juice, 1 tablespoon of simple syrup and a squeeze of fresh lime juice. Blend ingredients in a cocktail shaker and strain into a martini glass. Garnish with a slice of watermelon and a wedge of lime.
Medley of Fruit
A fruity extravaganza is a sweet explosion of taste made by mixing equal parts watermelon vodka, banana liqueur, green melon liqueur, peach schnapps, grape-flavored vodka and sour apple liqueur. Pour the ingredients into a tall glass filled with ice and top with pineapple juice. This potent concoction can also be made in a punch bowl for a party. Create the BMW by mixing equal parts banana liqueur, green melon liqueur and watermelon vodka. Serve over ice garnished with a chunk of watermelon and a piece of melon speared with a toothpick.
Perfect Party Punches
The fruit bowl is a tasty drink made by mixing equal parts watermelon vodka, raspberry vodka and blueberry vodka. Add ingredients to a punch bowl or pitcher along with fresh raspberries. Serve in tall glasses filled with ice and garnished with a wedge of lemon that has been speared with a raspberry. The Greek hunch punch is made by mixing 2 parts each of Champagne, grain alcohol and vodka to 1 part of watermelon vodka. Cut up fresh fruit, such as apples, strawberries and pears, and add them to a punch bowl. Pour in the liquor and allow the alcohol to infuse the fruit for 30 minutes. When ready to serve, add in 2 parts fruit punch, and 1/2 part each of lemon-lime soda and orange juice. Serve in tall glasses over ice and garnished with pieces of the alcohol-soaked fruit.
References
Writer Bio
Candi Canncel is a writer covering food and drinks, travel and lifestyle. Her work has appeared on Food and Wine Travel, Craft Gossip, Belltown Local and other publications. She also teaches cooking classes and hosts food/wine seminars.
Photo Credits
Stockbyte/Stockbyte/Getty Images