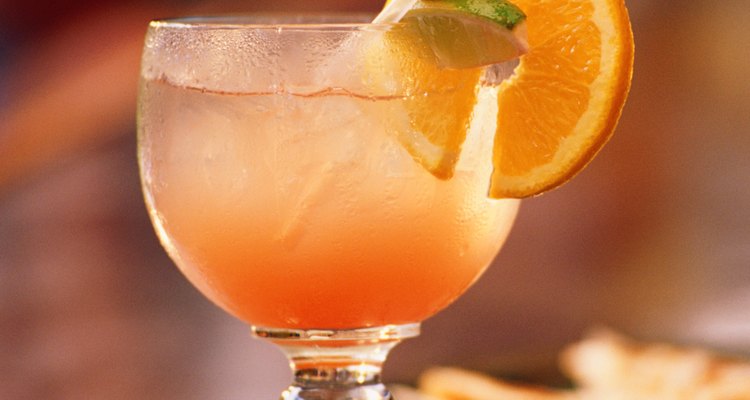 Thinkstock/Comstock/Getty Images
Originating in the 16th century, Brandy comes from the Dutch word brandewijn, which means "burnt wine." It is distilled using grape wine or a variety of fermented fruits. There are an array of liquors that are considered brandies including South American pisco, French Cognac and armagnac, as well as flavored brandies such as cherry and apple. This subtly sweet liquor pairs easily with many types of juices to create a variety of tasty libations.
Brandy with Orange Juice
The Fog Cutter is a classic tiki drink made with brandy, which was created in Hollywood in the 1930s -- and truly packs a punch. To create this cocktail, mix brandy, rum and gin with orange juice, lime juice and a bit of orgeat syrup. Blend in a cocktail shaker and pour into a tall glass over ice. Garnish with a twist of orange rind. Sangria is a luscious concoction that can pair red wine, brandy, orange juice and a variety of fruits. Pour the ingredients into a large pitcher and let it sit to infuse the flavors. Fill a wine glass with ice and add your sangria. Garnish the glass with an orange slice. Another brandy cocktail that calls for orange juice is the April Shower, a springtime drink that gets its color from yellow chartreuse, a French herbal liqueur. Mix equal parts orange juice and brandy, with half the amount of chartreuse. Shake the ingredients over ice and pour into a chilled martini glass. The smokiness of brandy fuses well with the sweet-tartness of orange juice for a refreshing combination.
Brandy with Pineapple Juice
The Club Cocktail, popular in the late 1930s blends brandy, pineapple juice, maraschino liqueur, bitters and a splash of lemon. After shaking the ingredients, pour the cocktail into a rocks glass and garnish with a lemon twist. The pineapple juice gives this drink a tropical feel that you usually don't associate with brandy drinks. Pisco is a clear brandy distilled in the wine regions of Peru and Chile. Though it blends well with quite a few juices to create a variety of cocktails, the Pisco Sour is one of the most famous. A simple take on this classic drink, blends pisco, pineapple juice, lime juice and simple syrup. Pour the ingredients into a shaker and mix well. Serve this cocktail in a chilled martini glass garnished with a wedge of pineapple and a slice of lime.
Brandy with Lemon or Lime Juice
Probably the most classic brandy cocktail next to the Alexander is the illustrious Sidecar. To prepare this concoction, you can mix Cognac with Contreau, an orange liqueur, with half the amount of fresh lemon juice. Garnish this drink with a twist of lemon. You can rim the glass with sugar, which will balance the sourness of the cocktail. A Hot Toddy merges tangy lemon juice with honey and brandy. Pour brandy into a snifter, add honey and lemon juice and top with hot water. Serve garnished with a wedge of lemon. A delightful twist on the Pisco Sour, is the Key Lime Pisco Sour. Mix pisco with fresh key lime juice, simple syrup, an egg white. Blend in a cocktail shaker, and then pour into a martini glass, topping with a few drops of bitters.
Brandy with Apple Juice
Apple brandy is distilled from apple cider so pairs beautifully with apple juice. You create an Apple Fizz using apple brandy and apple juice. Pour equal parts apple brandy and juice into a shaker with ice. Add a splash of fresh lime juice, shake the cocktail, and then strain into a cocktail glass topping it off with soda water and garnishing it with a lime wedge. A delicious brandy cocktail called the Apple Pie tastes almost like its namesake. Mix equal parts brandy, apple brandy, and light rum with sweet vermouth, apple juice, lemon juice and a splash of grenadine. Combine the ingredients in a cocktail shaker with ice and strain into a cocktail glass.
References
The Backyard Bartender; Nicole Aloni
Resources
Writer Bio
Candi Canncel is a writer covering food and drinks, travel and lifestyle. Her work has appeared on Food and Wine Travel, Craft Gossip, Belltown Local and other publications. She also teaches cooking classes and hosts food/wine seminars.
Photo Credits
Thinkstock/Comstock/Getty Images