Sometimes a plain, cold brewski just doesn't cut it. On those occasions, upgrade to one of these creative beer cocktails for a refreshingly new drink everyone will enjoy.
10. Beerchata
Perfect for Cinco de Mayo, this take on a traditional horchata is refreshing, aromatic and downright delicious. To make a Beerchata, you'll need:
3 parts rice milk
1 part amaretto
2 parts Negra Modelo (or any dark cerveza)
Cinnamon
Ice
Mix the rice milk and amaretto in an iced shaker, and then strain into an iced tumbler. Pour in the beer and add just a pinch of cinnamon. Stir gently to combine, and garnish with a cinnamon stick.
9. Red Scare
Really impress the crowd with this unconventional mix. Mango, Sriracha and liqueur come together in a perfect sweet and spicy blend. The sweet slivers of mango will be welcomed after the spicy kick. Caution: This flavor combo can be addicting.
8 ounce Asahi Super dry beer
1.5 ounces Kinky Pink Liqueur
2 tablespoons diced mango
Dime-size drop of Sriracha sauce
2 mint leaves
1 shot glass
Add diced mango and mint leaves to a glass, and then pour in the beer. Pour the liqueur into a shot glass, then stir in Sriracha sauce until combined. Drop the shot glass completely into beer glass and brace yourself.
8. Cerro Gordo
The Cerro Gordo is a play on a classic cocktail known as the 4th Regiment, which is a variation on a Manhattan. It's named after the famed battle between General Antonio Lopez de Santa Anna's army and the 4th Regiment at Cerro Gordo, near Xalapa, Mexico, during the U.S.-Mexican War. It was a pitched battle, but in the end, the 4th Regiment prevailed. Today, Mexico and the U.S. are friends and the Cerro Gordo celebrates this enduring friendship by blending the best of both countries into one powerful kick of a cocktail.
2 parts Negro Modelo
1 part ancho chile liqueur
3 dashes each of orange, celery and mole bitters.
Mix all the ingredients together. Serve with a cherry tomato that has been soaked in tequila, coriander, coffee and chile for at least three days.
7. The Classy Rogue
If you're a fan of coffee with your liquor, this is an exceptional treat. With the perfect mix of Kahlua and mocha porter, it only makes sense to add a dollop of whipped cream to top off this sophisticated sipping cocktail.
8 ounce cocktail glass
2 ounces Kahlua
1 ounce of Creme de Cacao
1 ounce espresso simple syrup (instant espresso with equal parts water and sugar)
Bottle of Rogue Mocha Porter
Whipped cream
Combine Kahlua, Creme de Cacao and simple syrup in the 8 ounce glass. Pour the Rogue Mocha Porter until the glass is about about three-quarters full. Top with whipped cream.
6. Strawberry-Jalapeno Beerade
If you're looking for a fresh, crispy beer cocktail, this recipe is for you. Bright with a bite, this drink is light and easy to make for a group.
Strawberries
Jalapeños
4 ounces lemonade
1 bottle of wheat beer
Ice
Muddle the strawberries and jalapeños together. Add to the lemonade and shake with ice until cold. Add beer. Pour into martini glasses and serve.
5. Grapefruit Gin IPA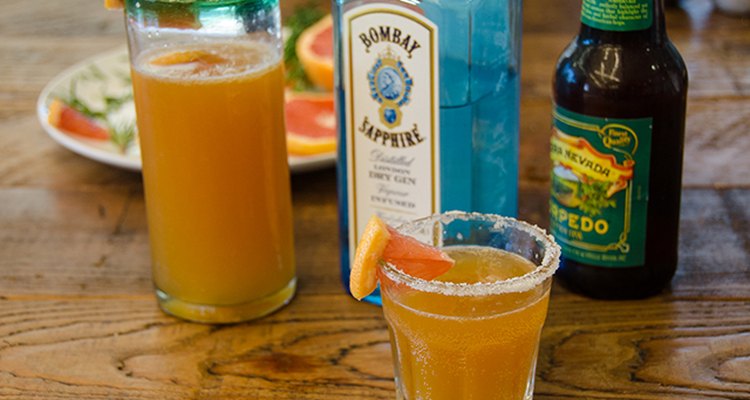 Simple and to the point, this recipe is easy and delicious. You'll need:
1 part gin
1 part grapefruit
1 teaspoon simple syrup
2 parts IPA beer
Optional: Rim the glass with salt
Mix gin, grapefruit and simple syrup together and pour into a glass. Pour the IPA over the mixture. Garnish with a grapefruit slice and sprig of rosemary.
4. Old Fashioned With a Shock Top Floater
Sometimes a classic just needs a little something extra.
1.5 ounces Bullet Rye Whiskey
Maraschino cherry
Angostura bitters
Shock Top beer
Cane sugar cube
Orange
Crush one sugar cube into the bottom of a glass. Add 2 dashes of the angostura bitters along with the rye whiskey. Add a small amount of ice and gently stir. Add in one maraschino cherry.
Hold a spoon upside down so that the end of the spoon touches the inside off the glass and pour a small amount of beer on back side of the spoon so that it runs down the spoon to the glass and into the drink. This will cause the beer to sit or float on top of the old fashion.
Garnish with an orange peel.
3. Raspberry Dream
When all else fails, just stick to the basics: Ice cream and beer. How you haven't thought of this beer float idea before surprises us as well.
Lindemans Framboise Lambic
Vanilla ice cream
Whipped cream
Raspberries for garnish
Measurements up to you. Go for it.
2. Beer Sangria
Jackie Dodd, The Beeroness
Beer Sangria is the perfect summertime refreshment to serve at brunch or enjoy on the patio during a warm night. Using your favorite summer-style ale, you can really play with the flavors and make the recipe your own.
24 ounces summer-style ale
1 cup peach nectar
2 ounces simple syrup
2 ounces fresh lemon juice
4 ounces Pisco Reservado
2 cups frozen peaches
For more details and directions, see The Beeroness's Beer Sangria recipe.
1. Michelada
Last, but not least, you can never go wrong with a beer-infused Bloody Mary. Hungover or not, this spicy, carbonated treat will wake up your taste buds fast.
6 ounce tomato juice
2 limes (about 1/3 cup lime juice)
1/4 teaspoon celery salt
1 teaspoon Worcestershire sauce
1/4 - 1/2 teaspoons of your preferred hot sauce
2 12 ounce bottles of Modelo
Ice
For full directions, view Food52's Michelada recipe.
References
Writer Bio
Garineh Magarian is the Social Media Manager for eHow. She has a BA in Journalism from California State University, Northridge.
Photo Credits