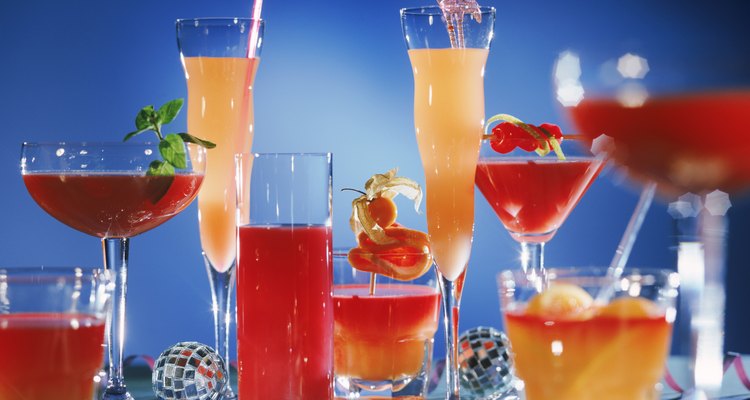 John Foxx/Stockbyte/Getty Images
Rum has followed vodka's lead by branching out into the world of infusions and flavors. Although the liquor has long had variety with different types including light, dark and spiced rums, flavored rums such as black cherry rum have become widespread. Each flavored rum comes with its own appropriate drinks, and black cherry rum -- with its sweet and ripened cherry flavor -- is no exception.
Simple Sippers
Black cherry rum eases into rum cocktails with simple mixers. Drinks such as rum and cola or Cuba libre, which is just rum and cola with lime, benefit from black cherry rum's added sweetness. Replace either all or half of the rum in these drinks with black cherry rum. Black cherry rum also mixes well with lemon-lime and club sodas. A few signature drinks are the Irish cherry soda, which is equal parts Irish whiskey, black cherry rum and lemon-lime soda, and the black cherry, which is 2 parts bourbon and 1 part black cherry rum topped with lemon-lime soda. Substitute ginger ale in either drink for some added spice.
Rummy Relatives
Many rum-based classic cocktails also benefit from adding black cherry rum. One of the most widely known, and drank, rum drinks is the mojito, a minty Cuban cocktail. Substitute black cherry rum for light rum in both fresh and mix-made mojitos. For the best fresh mojitos, pour equal parts black cherry rum and light rum to cut back on the sweetness, then mix the liquor with mint, lime juice and simple syrup. For the best mix-made mojitos, pour straight black cherry rum for the mixes' flavors are strong enough to not be overpowered by the cherry flavor. Another classic rum drink is the daiquiri, which is rum, simple syrup and lemon or lime juice -- mix daiquiris with black cherry rum for an adult cherry lemonade or limeade.
Fantastic Feats of Flavor
Black cherry rum forms a solid base for many tasty mixed drinks. The flip-flop cocktail gets its name for the spirit of beach living it evokes: Mix equal parts black cherry rum and light rum with orange and lime juices, simple syrup and lemon-lime soda on the rocks. Fruit juices are not the only ingredients that mix well with black cherry rum; the black cherry tea cocktail combines Canadian whiskey and black cherry rum with iced tea for a tall, cool summertime cocktail. Black cherry rum also works well in dessert drinks. The chocolate covered cherry combines black cherry rum with vanilla rum, chocolate syrup, milk and grenadine for an adult after-dinner treat.
Classy Cocktails
Though black cherry rum may seem more like a novelty liquor, it combines with other flavors for some delectable martinis and sparkling cocktails. The American dream cocktail gets its name from the cocktail's red, white and blue colors. In addition to black cherry rum, the cocktail has pomegranate liqueur, pomegranate-cherry juice and sweet and sour mix garnished with blueberries and white fondant stars. The cherry orchard cocktail further sweetens the black cherry rum with apple juice -- as well as light rum, simple syrup and lemon juice. For a more elegant sipping cocktail, try the Virgin Islands sparkling cocktail, which is black cherry rum, bitters and sparkling wine.
References
Writer Bio
Chance E. Gartneer began writing professionally in 2008 working in conjunction with FEMA. He has the unofficial record for the most undergraduate hours at the University of Texas at Austin. When not working on his children's book masterpiece, he writes educational pieces focusing on early mathematics and ESL topics.
Photo Credits
John Foxx/Stockbyte/Getty Images