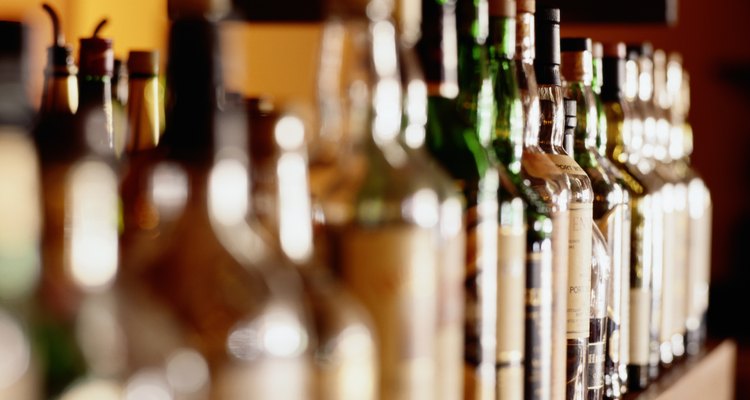 Ryan McVay/Photodisc/Getty Images
Although the Prohibition -- an economically motivated "noble experiment" passed by the Wilson administration that banned the manufacture and sale of alcohol -- legally reigned in America from 1920 to 1933, drinking culture absolutely thrived. In fact, per-capita alcohol consumption during this period far outclassed that of the preceding years. Moral and legal ramifications aside, cocktails experienced a golden age in the 1920s, perhaps inspired by a sense of underground creativity. These cocktails are more than just relics -- many have stood the test of time, and others are ripe for revival.
Common Ground
By and large, clear alcohols dominated the cocktails invented in the 1920s, as they were typically easier to distill and easier to conceal. While moonshine defines the era, it was often taken straight. Instead, home-distilled gin, known colloquially as "bathtub gin," stood at the top of the heap among cocktails. Mixers -- fresh fruit juice, fruit liqueurs and simple syrup chief among them -- were often more simple than the plethora of flavored liquors, sodas and exotic juices available to today's bartenders.
Gin Ingenuity
Legends tell of New York bartender Harry Craddock mixing the last legal drink before the "Iron Law" of Prohibition began in 1920. His cocktail, called the White Lady, contains gin, orange liqueur, lemon juice and an optional egg white, garnished with a twist of lemon. The Southside -- a mix of gin, lime juice and simple syrup, accented with a sprig of mint -- came to prominence as a favorite of Al Capone's gang, while the Last Word stands as one of the more complex cocktails of the 1920s. The latter drink, purportedly invented by bartender Frank Fogarty in 1922, combines gin, chartreuse, maraschino liqueur and freshly squeezed lime juice. The Bee's Knees was a signature staple of the roaring '20s, featuring a mix of gin, lemon juice, orange juice and honey.
Rum Concoctions
Legendary Prohibition-era bartender Eddie Woelke brought at least two famous rum cocktails to the table. Named for the 1920s actress, the Mary Pickford includes rum, pineapple juice, maraschino liqueur and a dash of grenadine, while the tropical El Presidente combines rum, dry vermouth, orange liqueur and, likewise, a dash of grenadine. For a stout drink, mix rum, cognac and triple sec with a splash of lemon juice to create a cocktail called Between the Sheets. The cheeky name of this strong drink, first recorded by bartender Patrick Gavin Duffy during the Prohibition, paved the way for many modern innuendo-laced cocktail titles. In keeping with the 1920s focus on clear liquor, stick with white rum when mixing authentic '20s cocktails.
More Mixes
The iconic Sidecar first began to appear in American cocktail books around 1922. This classic drink features a simple mix of Cognac, orange liqueur and lemon juice. Legend has it that that a Parisian bartender created the cocktail to warm up an American soldier during World War I, naming it "Sidecar" after the soldier's chilly motorcycle ride to the bistro. While their inventions cleanly pre-date the 1920s, the whiskey Highball, Mint Julep, Gin Rickey and Ward Eight, a precursor to the modern martini, were prominent staples of speakeasy halls. The latter drink takes its name from Martin Lomasney, ward boss of Boston's Ward Eight in the late 1800s.
References
Resources
Writer Bio
With a diverse professional background and a decade of experience as a freelance writer, Dan has contributed lifestyle content -- from fashion to travel to fitness and more -- to publishers including Chron, Fortune, Sony, GlobalPost, ModernMom, Moviefone, Salon.com, Techwalla and dozens of others.
Photo Credits
Ryan McVay/Photodisc/Getty Images