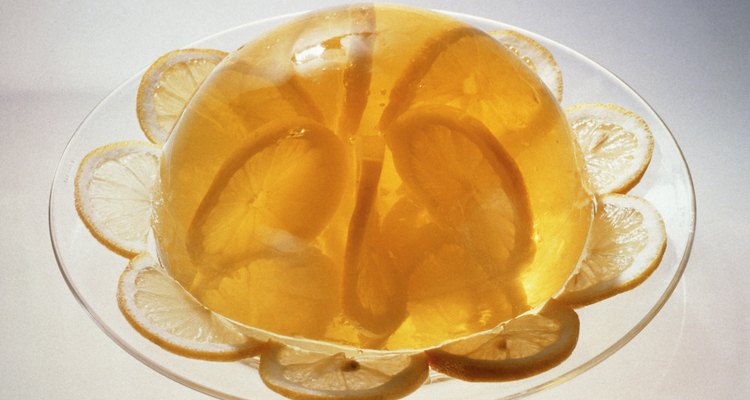 Eising/Photodisc/Getty Images
Desserts from the Roaring '20s may look surprisingly familiar to modern eyes. Some delicacies that seem slightly old fashioned now, such as gelatin molds and upside-down cakes, were new and exciting in the Prohibition era. Others, such as ice cream and angel and devil's food cakes, seem effortlessly timeless. Serve 1920s-themed desserts at a speakeasy-themed party or dinner event.
Gelatin Molds
Gelatin was first mass-produced at the turn of the 20th century. It caught fire in the 1920s partly due to the advent of refrigeration. Molded gelatin desserts containing fruits, nuts, even rose petals were all the rage. Serve them today using vintage molds, often found at flea markets, or prepare them in a simple glass or metal bowl.
Fruit Cocktail
Colorful mixed fruit salads served during the Prohibition era were called fruit "cocktails." If you couldn't have a real cocktail -- with alcohol -- this was the next best alternative. An alternative theory for the name is that fruit salad was served in the cocktail glasses that restaurants could no longer use for drinks. Concoct a 1920s-style fruit cocktail using either canned or fresh fruits, such as grapes, strawberries, pineapple, raspberries and peaches. Cut into bite-sized pieces, the fruit is drizzled with a small amount of simple syrup to enhance their sweetness. Infuse the syrup with mint for a subtle and elegant touch.
Upside-Down Cake
Upside-down cake was a trendsetter dessert in the 1920s, thanks to the relatively new delicacy known as canned pineapple. Pineapple upside-down cake is a simple vanilla sheet cake with pineapple rings and maraschino cherries arranged in a decorative pattern on the bottom of the pan. After it is baked, the cake is unmolded onto a plate; the fruit is then on the top of the cake for all to see. Make a variation using apricots or other fruits.
Ice Cream
Ice cream became an attainable luxury in the 1920s thanks to the advent of home refrigerators. On party and restaurant menus of the era, ice cream was often served with chocolate and caramel sauces. Typically, you could choose from vanilla, strawberry and chocolate ice creams, or fruit sherbets in flavors like pineapple and orange. To serve ice cream reminiscent of the '20s, make ice cream sundaes in footed glass serving cups topped with crushed pineapple sauce, sliced banana, flavored syrups and chopped nuts. Or feature chopped candy bars, which were new on the market in the '20s.
Cake Bites
Bite-sized squares or triangles of cake make for an elegant presentation. Cakes of all sorts were a dessert mainstay in the 1920s. Both angel food cake and devil's food cake had existed since the turn of the 20th century, but were stars on the cake platter throughout this decade. Presenting them together makes for a strong visual impression. Other cake options include red velvet, pound cake, carrot cake, spice cake and fruit cake.
References
The 1920s: Kathleen Morgan Drowne, Patrick Huber
Writer Bio
Lori A. Selke has been a professional writer and editor for more than 15 years, touching on topics ranging from LGBT issues to sexuality and sexual health, parenting, alternative health, travel, and food and cooking. Her work has appeared in Curve Magazine, Girlfriends, Libido, The Children's Advocate, Decider.com, The SF Weekly, EthicalFoods.com and GoMag.com.
Photo Credits
Eising/Photodisc/Getty Images