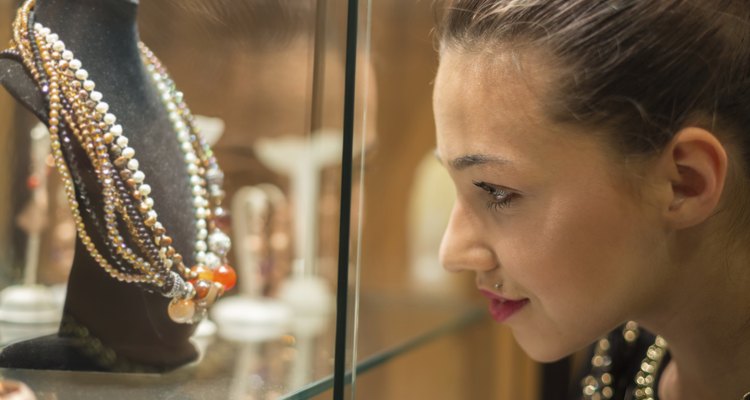 Giakita/iStock/Getty Images
Trifari jewelry has been around since the early 1900s. The line was founded by Gustavo Trifari, and grew when former Van Cleef and Arpels designer Alfred Philippe signed on, helped by Depression-era clothing designers who made it cool to wear costume jewelry instead of real gems. You can find a mass-produced version of the name in department stores today, but signed vintage Trifari pieces from the 1920s through the '60s are prized by collectors.
Jelly Bellies and Other Brooches
Many collectors look for pieces signed by Philippe, who retired in 1968, and for brooches called "jelly bellies." Made in the 1930s and '40s, these animal-shaped creations had Lucite bellies of different colors. Poodles are rare and highly sought; whimsical turtles, owls and insects are other designs. Floral bursts, poinsettias, fruit, ballerinas, keys -- even a king of diamonds -- were creative brooch designs. Trifari also made pearl and gemstone jewelry, including a pearl choker, bracelet and earrings that first lady Mamie Eisenhower wore with her pink inaugural ballgown.
Trifari in Recent Years
In 1975, Trifari was sold to Hallmark; in 1994, it was purchased by a division of the Monet Group and later was bought by Liz Claiborne. In 2012, the Claiborne name was changed to Fifth and Pacific Cos.; the brand works with the Adelington Design Group to make Trifari jewelry. Today it is sold in a variety of chain stores.
References
Writer Bio
Bonny Brown Jones has been a writer, columnist, copy editor and senior copy editor for newspapers that have included the "Orlando Sentinel," "Miami Herald" and "Columbus (Ohio) Dispatch." Jones has a Bachelor of Arts in English from Ohio State University.
Photo Credits
Giakita/iStock/Getty Images