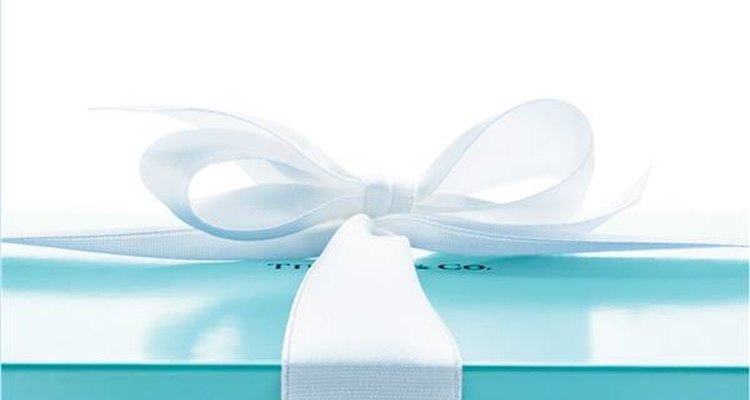 tiffany.com
A real Tiffany's necklace is an iconic piece of popular culture made popular by Elle Wood's pink-clad, sorority girl protagonist in "Legally Blonde." Unfortunately, dishonest and unauthorized vendors sell fake Tiffany necklaces to uninformed consumers in flea markets, boutiques and on the Internet. If you are looking to tell a real Tiffany necklace from a faux one, use these clues to determine the authentic silver jewelry from the widely available, but inferior in quality, fake Tiffany trinkets.
Become familiar with the characteristics of authenticity included in every Tiffany necklace. Every year Tiffany releases new silver jewelry designs. These pieces may include modifications of past designs, but few eliminate the signature details of a real Tiffany & Co. necklace. For example, the necklace's chain links are always soldered smoothly and closed completely, the heart pendants are not curved or bent, and the engraving is smooth without any signs of shoddy or dotted lettering.
View the online photos of the jewelry carefully. Online jewelry sellers may copy pictures of real Tiffany's necklaces from the jeweler's website to prove to buyers that their merchandise is authentic. Tiffany & Co. sells its authentic pieces on its website only. If the necklace does not have a lobster clasp and the silver color is a light gray or a dark steel hue, the jewelry is not authentic.
Check the jewelry's weight and 925 silver designations. According to Tiffany's official website, in 1851, Tiffany became the first American company to use the 925/100 weight standard for its jewelry. Authentic Tiffany & Co. silver jewelry pieces are engraved with the 925-weight designation on the front or back of each piece of jewelry and on the clasp. A faux Tiffany necklace will also weigh considerably less than the real Tiffany necklace's standard weight of 72 grams.
Examine the jewelry's sales price. Authentic Tiffany jewelry never goes on sale. In 1837, Tiffany founders Charles Lewis Tiffany and Charles B. Young established a pricing model where each piece of jewelry sold has a non-negotiable selling price. If the Tiffany necklace is sold for more than 30 to 70 percent below retail price, you are probably buying a faux piece.
Look at the packaging for fake necklace clues. Tiffany & Co. packaging is known for its signature "Tiffany Blue" colored pouches and boxes. If you want to spot a faux Tiffany necklace, check for irregular-sized pouches and boxes that are not the original, "Tiffany Blue" hue.
Writer Bio
Mimi Abney is a lifestyle writer specializing in online content for women. Her work has appeared in NewsOK.com and "Keepsake Magazine," among other publications. With over 15 years of writing and editing experience for the web and print, Abney is also a contributor to online health, beauty and fashion publications. She holds a Bachelor of Science in biology from Spelman College.
Photo Credits