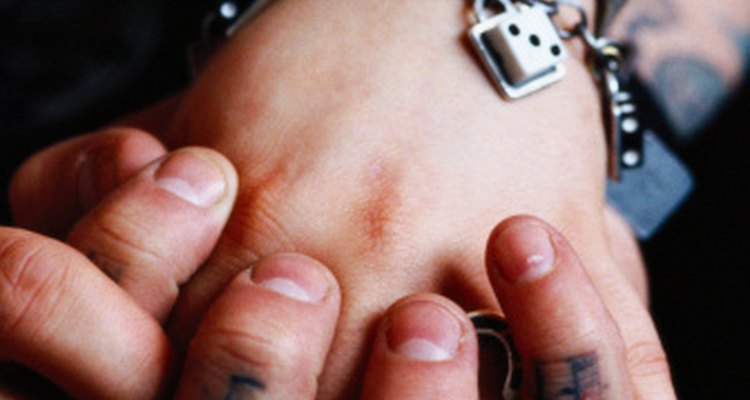 Ryan McVay/Photodisc/Getty Images
Originally created in 1976, Trollbeads were the very first beads made for charm bracelets. Over the years many new styles of Trollbeads have been released and retired making them a must-have for jewelry lovers and collectors. Unfortunately, it's often not easy to distinguish real Trollbeads, which can be worth hundreds of dollars, from counterfeit beads, which have little commercial value. Before you waste your money, follow these steps to ensure you're getting the real deal.
Check that your Trollbeads are stamped with a manufacturer's code. Silver and glass beads will have "925S LAA" stamped on them, while gold beads will have "750 LAA." These codes can usually be found on either the bottom or inside of the bead, depending on the bead itself. Beads made before 2008 will not have these codes stamped on them, so collectors may want to avoid buying older beads, as it is harder to tell if they're counterfeit.
Join the Trollbeads gallery forum to view a list of websites and sellers who are selling counterfeit Trollbeads. This forum was created specifically for people collecting beads and can be joined by clicking the sign up button on the left of the website and then entering your email address. The forum's list of counterfeit sellers is updated often by many of the forum users to warn others about fake beads. Always check the forum before purchasing Trollbeads. The link to the Trollbeads gallery forum can be found in the "Resources" section of this article.
Buy only from authorized dealers when purchasing Trollbeads online. Most online retailers will indicate on their websites that they are authorized retailers of Trollbeads. If you can't find any indication on a site that the seller is authorized, the beads he sells may not be genuine.
Buy only from "Top Rated Sellers" when buying Trollbeads on Ebay. Top rated sellers will have a badge on their profile to let you know that they can be trusted. Ebay is a popular website for both buyers and sellers of Trollbeads, but unfortunately, anyone can become a seller and claim his product is authentic. By purchasing only from top rated sellers, you ensure that you're buying authentic Trollbeads.
Check the beads for wear. Authentic troll beads have a lifetime guarantee and won't damage easily. If you've been wearing a Trollbead for only a few weeks and it's already fading, cracking or showing any other signs of damage, it's likely a fake.
Avoid bargains that seem too good to be true. This is especially true when buying Trollbeads online from sellers you don't know. Retired Trollbeads can easily sell for over two hundred dollars apiece, while non-retired beads sell for around twenty-five dollars. If you see Trollbeads selling for less, they may be counterfeit.
References
Writer Bio
Leanne Canirs has been a freelance writer since 2010. She focuses her work on an online audience, writing for various websites. She is currently pursuing a Bachelor of Arts in journalism at University of West Florida.
Photo Credits
Ryan McVay/Photodisc/Getty Images