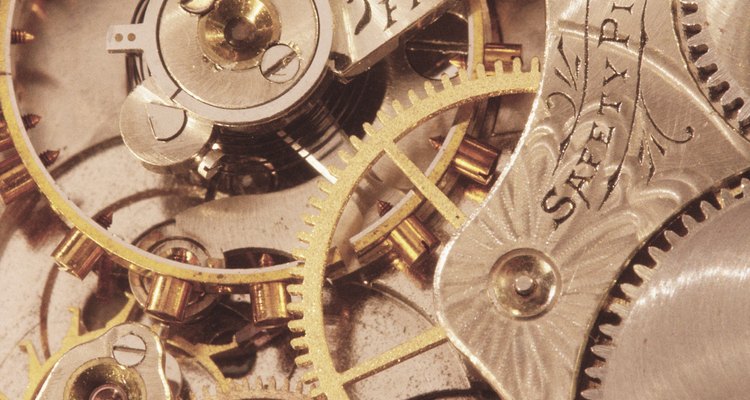 Ablestock.com/AbleStock.com/Getty Images
Jaeger-LeCoultre is recognized as a premier high-end watchmaker, and both modern and vintage LeCoultre watches are sought after by collectors worldwide. When buying an upscale timepiece, it is crucial to be aware of indications that the watch could be a knockoff. Jaeger-LeCoultre watches incorporate trademark elements that will allow you to determine authenticity. Studying the features of the watch and understanding how to tell if it is a fake could save you thousands.
Materials
When buying a LeCoultre watch, anything that looks to be less than the highest quality metal or leather should be an immediate red flag. An authentic LeCoultre watch will be made with high-quality materials, such as top grade stainless steel, 18-carat gold or genuine alligator leather. If the leather band on the watch feels low quality, or if the case or bracelet scratches easily or discolors over time, it is most likely a fake. A top-end Swiss timepiece will also carry some weight, as opposed to lighter knockoffs that feel hollow.
Movement
A Swiss timepiece will have a sweeping second hand that glides fluidly across the face. If the second hand "ticks" from number to number, you are looking at a fake. Elements of the watch such as a tourbillon or day-date feature should be in perfect working order, and if any of these appear non-functional, the watch may not be real. When possible, open up the back of the watch or have an experienced watch dealer look inside. If the watch is supposed to be mechanical yet is battery-operated, it can't be a true LeCoultre.
Marks and Engravings
A LeCoultre case may have a number engraved on it which can be used to check the authenticity of the watch, while other engravings such as the edition of the model should exactly match stock photos. The movement should have "Jaeger-LeCoultre" and "Swiss-made" engraved on it. If your watch reads "Japanese movement" or any other non-Swiss movement, it is a knockoff.
Authentic LeCoultre Watches
To ensure the LeCoultre you buy is authentic, purchase only from a credible dealer who has an established reputation. If you are offered a LeCoultre at a price that seems too good to be true, it probably is. New Jaeger-LeCoultre watches usually sell for $3,000 or more, with some pieces selling for six figures and above. Be sure to properly look over any LeCoultre to avoid wasting money on a knockoff, and scrutinize the materials and construction of the watch carefully before making a judgment on its authenticity.
References
Writer Bio
Nicoleas Mayne is an internationally recognized marketing specialist and owner of a global marketing firm with clients across Canada, the USA and worldwide. Mayne has extensive experience in the legal industry, style industry and political marketing sector, and has education in political studies, law and religion. He is also an avid watch collector and owner of over 30 vintage and high-end timepieces.
Photo Credits
Ablestock.com/AbleStock.com/Getty Images