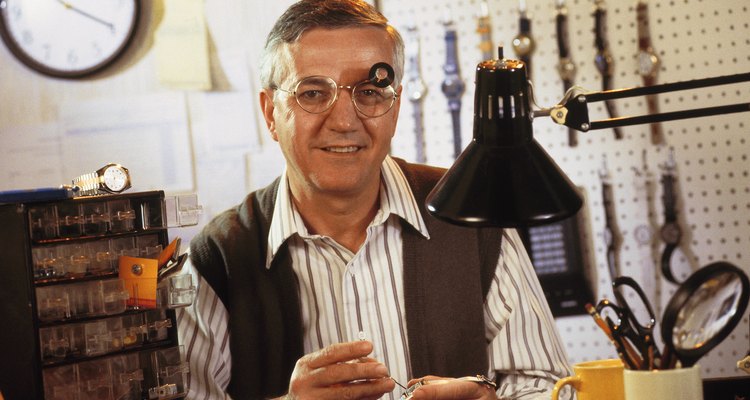 Comstock/Comstock/Getty Images
Hundreds of thousands of replica Baume and Mercier luxury watches are produced each year. Baume and Mercier timepieces can sell for thousands of dollars, but fakes can be purchased for under $300. Identifying replica Baume and Mercier watches is difficult, but two telltale signs stand out. If the watch is selling for less than $800 and the quartz or automatic movement lacks Baume and Mercier markings, logo or caliber number, then the watch is a replica.
Visit an authorized Baume and Mercier watch seller. Baume and Mercier timepieces won't be found at the local mall but at prestige jewelry shops. Use a jeweler's loupe to inspect the watch dial, the Baume and Mercier logo, the hours, minutes and second hand, color, the movement (which is the electronic or mechanical device that runs the watch), case back and the bracelet or leather strap. Read and examine the pictures of the Baume and Mercier sales brochure. Examine as many models as possible.
Use a jeweler's loupe to inspect Baume and Mercier watches for comparison in the sales brochure if you visiting a nonauthorized seller. Nonauthorized jewelers can sell Baume and Mercier watches because they purchase overstock or older models from authorized sellers. Ask the nonauthorized dealer if the Baume and Mercier warranty is valid. If not, the watch may be a replica.
Note that the replica Baume and Mercier Classima watch is virtually identical to the genuine article. Like the legitimate Classima, the fake features a quartz movement, 36 millimeter white dial, gilt hands and 18 karat yellow-gold case. One sign of a replica is the Baume and Mercier name is embossed crudely. Ask the seller to see the movement. The movement should be stamped with the Baume and Mercier name. The Classima GMT automatic is equipped with a Caliber 9035 movement, according to Baume-and-Mercier.com. The number should be visible with a jeweler's loupe. If the movements lack these markings or the dealer refuses to open the watch, it's likely a fake.
Copy photographs of Baume and Mercier watches from Internet sellers' websites. Enlarge the photos. Ensure the photos are in focus and clear. Visit the Baume and Mercier watch website and compare. Visit online watch enthusiast forums and post the pictures. Experienced buyers and experts in Baume and Mercier timepieces can help you identify a replica.
Inspect the warranty and documentation that authenticates a Baume and Mercier watch. Replica watches are sold without documentation.
Avoid heavy-discount sales of Baume and Mercier watches. Legitimate sellers do not discount their watches more than 50 percent, according to Chronocentric.com.
References
Writer Bio
Rob Wagner is a journalist with over 35 years experience reporting and editing for newspapers and magazines. His experience ranges from legal affairs reporting to covering the Middle East. He served stints as a newspaper and magazine editor in Saudi Arabia and the United Arab Emirates. Wagner attended California State University, Los Angeles, and has a degree in journalism.
Photo Credits
Comstock/Comstock/Getty Images