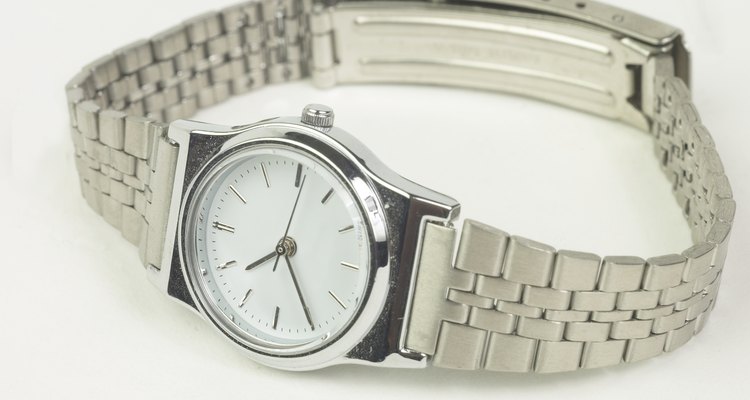 Hemera Technologies/AbleStock.com/Getty Images
Cartier is one of the most respected names in jewelry and watch design worldwide. The Santos de cartier watch was created by Louis Cartier in 1904, and its geometric aesthetic marks a milestone in the brand's exploration of new forms. The opulence of this particular timepiece has spawned many knockoffs and plagiaristic attempts to replicate its beauty
History of the Santos de Cartier
The Santos de Cartier was originally designed for aviator Alberto Santos-Dumont, who was a personal friend of Louis Cartier. In 1906, an admiring crowd took notice of Santos-Dumont's now legendary timepiece and demand was created. It was one of the first timepieces to be specifically strapped to the wrist, thus spawning fashion history
Specifics of Authentic Cartier Watches
All authentic Cartier watches are assembled at the Cartier facilities in Switzerland, and bear the "Swiss Made" label. All watches purchased from authorized Cartier retailers come with a guarantee against any manufacturing defect for an unlimited period. All Cartier watches bear serial numbers that can be authenticated if it was registered upon purchase and sold in North America, or if it was sent in for service. Trademark characteristics of Cartier timepieces include the use of Roman numerals, and hands that are shaped like swords.
Spotting a Fake
You'll want to check that "Cartier" is spelled correctly on the watch and all accompanying wrapping. Misspellings often indicate poor quality control on replicated items. The watch should be well made and durable; check for broken or missing parts, scratches or dents. Check the weight of the watch. Cartier watches have a solid, hefty feel. The serial number should be nicely engraved, it should not look lightly etched or worn. The winder on the watch should have a tiny gemstone, called a cabochon stone. This is a signature of a Cartier piece.
Testing for Authenticity
There are two tests you can do to help verify authenticity. First, dab a few drops of water on the face of the watch. Cartier watches are made with a sapphire-quality glass that will make water bead on the surface instead of smearing. Not every Santos de Cartier watch was made to glow in the dark, but many are. Check luminosity be shining a light on the watch for 10 minutes, then go to a dark space. If the watch is authentic, the face should glow brightly and the numbers should be easy to read. Cheap, nonauthentic watches will have sub-par luminosity.
Knowing the Product
The best way to tell the difference between an original and a fraudulent copy is to become intimately familiar with the genuine article. Visiting the Cartier website, holding and examining a Santos de Cartier at an authorized retailer, and knowing the different styles and prices of the Santos de Cartier through research will help you to tell the difference.
References
Writer Bio
This article was written by the CareerTrend team, copy edited and fact checked through a multi-point auditing system, in efforts to ensure our readers only receive the best information. To submit your questions or ideas, or to simply learn more about CareerTrend, contact us [here](http://careertrend.com/about-us).
Photo Credits
Hemera Technologies/AbleStock.com/Getty Images