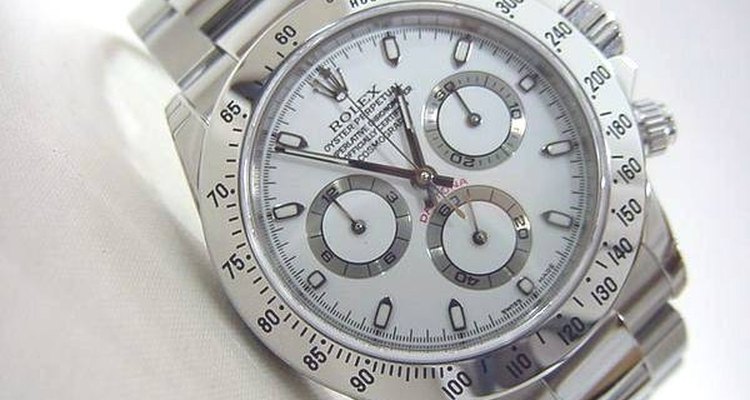 www.rolex.com
A Rolex watch is one of the most luxurious timepieces in the world. The name alone is synonymous with wealth and luxury. Due to its popularity, the Rolex watch is often counterfeited and sold to unknowing customers who think that they are getting the real thing at a good price. However, it is possible to spot these fakes and avoid purchasing them. All it takes is a thorough knowledge of the Rolex brand and a dose of common sense.
Check the back of the watch. If there are any engravings or imprints, be advised that this is not a real Rolex watch. The real watches have a smooth caseback without any engravings or other markings, not even a logo. Moreover, if you can see the inside of the watch because it has a clear, see-through backcase, be advised that this is also a fake. Real Rolexes do not have any versions that reveal the "inner workings" of the watch.
Check the "made in" sign. Most Rolex watches are made in Switzerland, which is indicated by a "Swiss Made" sign near the bottom of the watch. If the manufacturer's mark on your watch says "made in China" or any other country with a reputation for producing cheaply-made products, you would be wise to avoid purchasing it.
Take the watch to a certified appraiser. This is the only sure way to determine if your Rolex watch is fake or real.
Locate the serial and case reference numbers that are engraved on the side of the timepiece. A real Rolex watch will feature the engraving in very fine, light-reflecting lines. A fake Rolex watch will feature an engraving that has a shoddy, etched appearance. Moreover, many counterfeiters simply use the same series of numbers on all their watches and this is a dead giveaway of a fake.
Note the price. Genuine Rolex watches as of 2009 sell for upwards of a hundred dollars while some are over thousands of dollars. Don't be fooled by "bargains" that sell Rolexes for $100-$200. Remember that if the price seems too good to be true, it most likely is.
Listen for a ticking sound. If the watch ticks, it's a fake. A true Rolex does not make a traditional "tick-tock" sound like most watches.
Make sure the "second hand" on the watch sweeps over the numbers without stopping. If the "second hand" jerks as it moves, then the watch is definitely a fake Rolex.
Writer Bio
Maggie Hira has been writing professionally since 2006. She has written for numerous websites and print publications, including "LA.Direct Magazine" and The Budget Fashionista. Hira holds a Bachelor of Arts in English from the University of California, Los Angeles.
Photo Credits