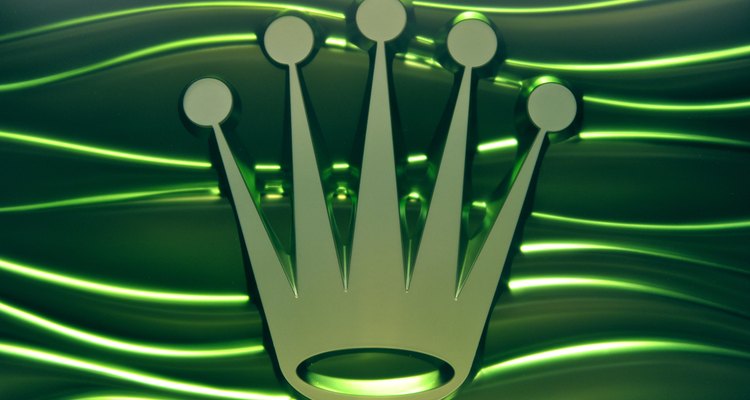 The Image Gate/Getty Images Entertainment/Getty Images
Rolex is the leading luxury watch manufacturer in the world. Counterfeit Rolex watches are common and can be sold online to a buyer who expects to receive a genuine Rolex watch. Quality Rolex replicas can be sold for a high price and are more difficult to identify as a fake. With some simple tips, you can examine your Rolex and tell the difference between an authentic Rolex Oyster Perpetual and a replica.
Turn the Perpetual Oyster Rolex watch face down. The watch case back should not have any engraving and should be solid stainless steel or gold. Some replicas have Rolex logos engraved on the back and some cheap replicas have a clear case back.
Check for the hologram sticker. A brand new Rolex Oyster will have a hologram sticker on the case back when it is first sold. The 3D hologram will have the Rolex crown in the middle with the reference number below. Fake Rolex watches may come with a sticker, but it will not be a hologram nor it will not have the crown or reference number.
Look at the magnification crystal over the date. The magnification is over the date of the month to make the number larger. Rolex Oyster Perpetuals have a date at the 3 o'clock position. On a genuine Rolex, the crystal magnification over the date is about 2.5, but replicas typically have 1.5 magnification or lower.
Feel the edges of the links, which touch your wrist when worn. Every Rolex watchband, also called a bracelet, is made up of many links that are held together by pins. Rolex links are either stainless steel or gold. A Rolex replica link will have sharper edges than an authentic Rolex link. Rolex links feel somewhat smooth on the edges.
Hold a magnifying glass over the 6 o'clock position and locate the small Rolex crown etched into the crystal. Rolex began etching the crown into the crystal in 2002 and all watches after 2004 have the crown. A replica may not have the etched crown or the crown will not be as clean as an authentic Rolex. Refer to the link under "References" for a picture of the etched crown on both a fake and a genuine Rolex.
References
Writer Bio
Vanessa Padgalskas was born and raised in Spokane, Wash., and currently resides in Portland, Ore. Padgalskas graduated from American University in 2007 with degrees in international studies and economics. She holds a law degree from Lewis and Clark Law School.
Photo Credits
The Image Gate/Getty Images Entertainment/Getty Images