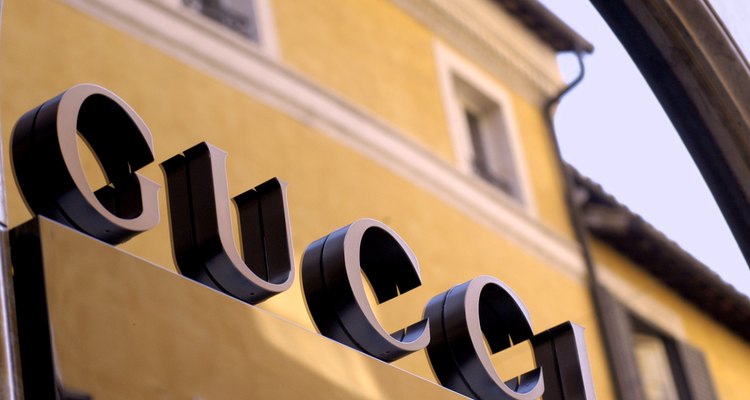 Franco Origlia/Getty Images Entertainment/Getty Images
Counterfeit silver bracelets made to look like bracelets from fashion designer Guccio Gucci can look almost like the real thing. Spotting an authentic Gucci bracelet requires a little research and familiarity with the Gucci line. What started as a simple leather luggage business in 1920s Italy is now a worldwide brand with distinct characteristics. Study the Gucci trademark on jewelry you have already, or visit a store to observe the Gucci attributes. Be wary of street sellers claiming to have authentic Gucci. Most likely the jewelry is not authentic Gucci.
Observe the distinct characteristics of Gucci jewelry by visiting Gucci's website. On the company's official website, click on the "shop online" on the left-hand sidebar. You will arrive at a new sidebar, where you can click "fine jewelry," about mid-point on the sidebar. Next, click on "bracelets." Photos of Gucci's bracelet line will appear on your screen. Now click on any photo and observe the Gucci trademark located on the inside of the bracelet. You can zoom in by double clicking on the photo. You will notice that the trademark often as an "R" with a circle around it, followed by GUCCI in all caps, followed by "made in italy." in lower case letters.
Leaf through fashion magazines and look for Gucci ads. When you find an ad for Gucci jewelry, tear out the ad and carry it in your purse. Ads have high-quality photos and good details, which will make them a good resource for comparing a bracelet.
Visit a Gucci retailer and ask a salesperson to show you a specific silver bracelet. There is not anything that can replace face-to-face interaction with a Gucci bracelet. Holding it in your hand, holding it close to inspect it, noting the feel and look of the bracelet--all will familiarize yourself with an authentic bracelet and help you recognize a fake when you are put to the test.
References
Writer Bio
Vera Leigh has worked as a professional freelance writer since 2008. Her work has appeared in "Learn Overseas" and "Grad Source" magazines. In addition, she received an honorable mention in "Newsweek's" My Turn contest. She has written features for nonprofits focused on literacy, education, genomics and health. In her spare time, Leigh puts her English major to use by tutoring in grammar and composition.
Photo Credits
Franco Origlia/Getty Images Entertainment/Getty Images