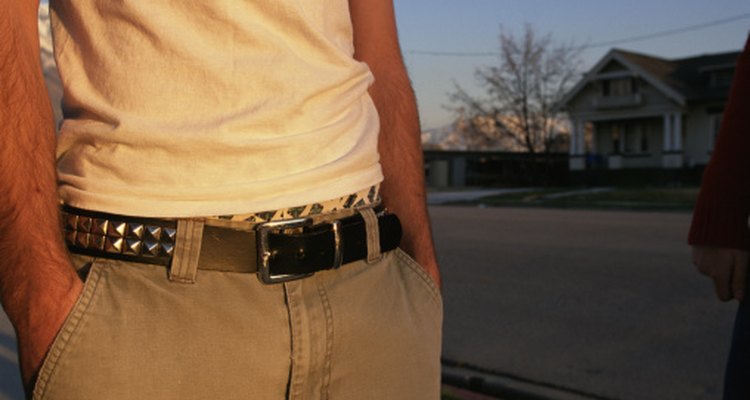 Photodisc/Photodisc/Getty Images
Hermes is a company specializing in high fashion luxury items such as scarves, purses, belts, ties and luggage, just to name a few. Identifying an authentic Hermes belt buckle can be accomplished by a thorough examination of your buckle. Taking note of metals used, manufacturing techniques, identification stamp, location of stamp and finishing of the buckle will help you determine authenticity. Remember that genuine Hermes buckles are well crafted and will reflect superior workmanship.
Look at the packaging your buckle is in. It should be orange in color, tied with a black ribbon with the Hermes logo stamped on it. The buckle should be in the design of an "H" which is highly visible and eye-catching. The buckle should be solid, never hollow, and feel heavy in the hand.
Examine your belt buckle closely using your magnifying glass. The metal should not have any chipping or tarnishing of the surface. Edges should be smooth and even, without casting marks. Genuine buckle metals used are 24 karat plated gold over gold or palladium, which is a form of platinum. If the color of your buckle's surface is different than the color of the metal where there is wear marks, you do not have a genuine buckle.
Hermes buckles have the Hermes stamp located on the bottom of the buckle. It will never be on the back. The stamp will be perfectly placed and clear upon inspection, if authentic. Check to see if "Hermes" is correctly spelled, as an incorrect spelling is a primary sign of a fake. Also note if the "Hermes" stamp is in a different font style than the official Hermes logo found on their webpage, as that would clearly indicate that the buckle is fake.
After your examination, if you are still unsure about your buckle you may contact your nearest Hermes location for verification. Bring the buckle to the store with your receipt, if you have one. Or, take clear photographs of your buckle face, back, and bottom. Send the photographs with a message of inquiry to the Hermes at: Hermes Paris, 24 rue du Faubourg Saint-Honore, Paris, France 75008.
References
Writer Bio
Laura Allen has worked as a professional grant writer for over seven years and pursued many volunteer and freelance writing projects within the metropolitan Detroit area. Allen holds a Bachelor of Arts in philosophy from Oakland University and is pursuing her master's degree in public administration with a focus on nonprofit management.
Photo Credits
Photodisc/Photodisc/Getty Images