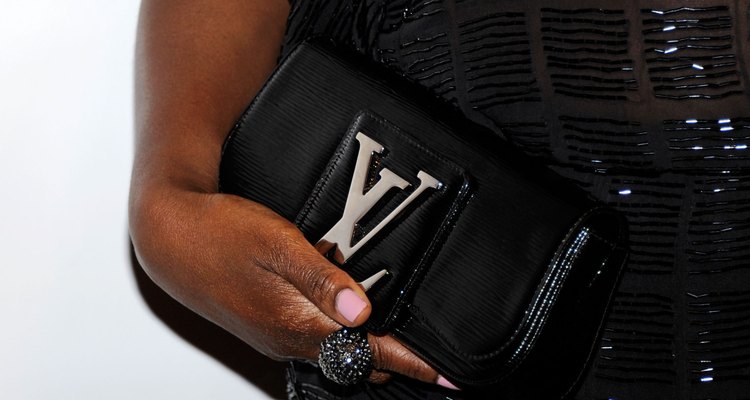 Ethan Miller/Getty Images Entertainment/Getty Images
Louis Vuitton (LV) is a French luxury goods manufacturer whose LV monogram features on its belts and other leather products. The status of luxury brands has shifted from an investment in classic quality to include a public display of wealth, real or fictitious, by the buyer. Fake luxury merchandise is a growing business for online sellers despite efforts by design houses and governments to prosecute the fake goods merchants.
Compare the belt on offer with belts in the catalog on the LV website or in a LV franchise in a respected store. It may not be a fake if it is not available in the store or the catalog.
Examine the logo stamp and serial number on the back of the belt. The logo stamp should be centered precisely. All LV belts have a serial number irrespective of the design. The back of the belt should be stamped "Made in France," but LV manufactures goods in Spain, Italy, Germany and the United States as well as France, so there will be "made in " stamps from these countries on merchandise. Disbelieve any seller who says that LV manufactures only in France.
Investigate the price. LV belts cost upwards of $500 so why would anyone want to sell a real one for $50? However, this is not necessary a certain guide all of the time. The article in question could be an unwanted gift to someone whose taste is not LV.
Examine the packaging. The belt is placed in a dust bag and the package is wrapped with a leather string. Authentic items could lack both dust bag and string, but a non-leather string claiming to be an original is a fake.
Examine the buckle. There should be a space between the bottom of the letter V and the bottom of the letter L on the LV buckle logo. Authentic LV belt buckles are never combined with any electronic gadget such as a cell phone. On the Daimier checkerboard design belts for men, the buckle is placed on the second central full square in the central line from the end of the belt.
Examine the stitching. It should be even and not frayed. LV stitches are designed to last. Any irregularity or wear is a warning. Stitching on the belt interior should be as perfect as the exterior.
References
Writer Bio
Based in London, Maria Kielmas worked in earthquake engineering and international petroleum exploration before entering journalism in 1986. She has written for the "Financial Times," "Barron's," "Christian Science Monitor," and "Rheinischer Merkur" as well as specialist publications on the energy and financial industries and the European, Middle Eastern, African, Asian and Latin American regions. She has a Bachelor of Science in physics and geology from Manchester University and a Master of Science in marine geotechnics from the University of Wales School of Ocean Sciences.
Photo Credits
Ethan Miller/Getty Images Entertainment/Getty Images