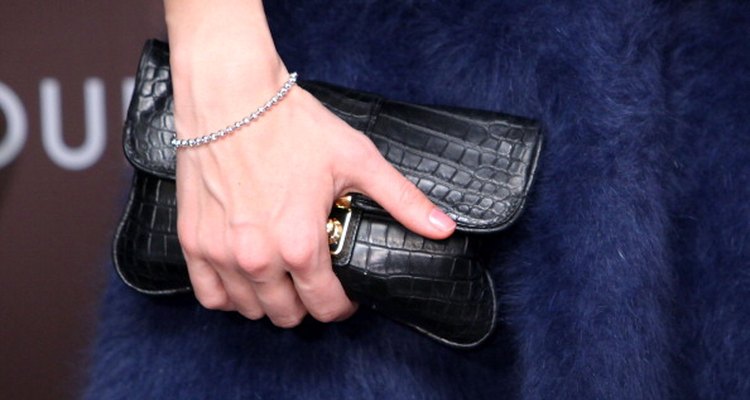 Kiyoshi Ota/Getty Images Entertainment/Getty Images
The Louis Vuitton Speedy 30 bag is no longer in production, so the only way to snag one is to purchase it used. In its heyday in 2009, the Speedy 30 cost nearly $2,000. If you're going to spend serious money on a designer bag, you want to be sure that it's the real deal. If you're purchasing your Speedy 30 secondhand, look for absolute signs that you're dealing with genuine article, or risk being taken by a clever con artist.
Look for the various tags and articles that come with the bag. Speedy bags do not come with the traditional LV luggage tag or genuine leather fabric swatch. A Louis Vuitton Speedy 30 bag will never have a price tag attached to it in any way, so if someone is telling you that the bag was purchased new and never used with tags still attached, it's a clear fake.
Open the bag and find the numbers on the leather tag on the inside. Unlike most Louis Vuitton bags, Speedy 30 bags have date codes rather than serial numbers. The date code is stamped with the date of manufacturing and will be stitched all the way around on the leather tag on the inside of the bag.
Turn the bag over and examine the seams of the bag. A Louis Vuitton bag will always be perfectly matched, which means the pattern will match on all sides of the seaming. A fake bag uses cheaper fabric and shoddy workmanship, which is why you'll notice mismatched patterns around all the seams.
Examine the hardware on the bad. Speedy bags, regardless of their color, only have brass and gold hardware, not gold painted hardware and certainly never silver hardware. Look at the buckle to ensure that it has "Louis Vuitton" engraved in all caps underneath the two front bolts. The zippers should also have "LV" engraved in caps, notes BagBliss.com.
Find the small leather fob found hanging from the left handle of the Speedy bag. You should see "#30" engraved into the leather, not printed. Gold or silver printing denotes a clear fake.
Assess the condition, workmanship and price of the bag. When purchasing a designer Louis Vuitton bag, you're purchasing the fine craftsmanship and materials that go into making the bag. Speedy 30 is a very popular bag, which means it will be pricey. Designer bags are rarely sold for less than 30 percent of the purchase price, and you'll get what you paid for if you pick up a version under $100. Look for tight seams, smooth hardware and general neatness to ensure you have the real deal.
Writer Bio
Kay Ireland specializes in health, fitness and lifestyle topics. She is a support worker in the neonatal intensive care and antepartum units of her local hospital and recently became a certified group fitness instructor.
Photo Credits
Kiyoshi Ota/Getty Images Entertainment/Getty Images