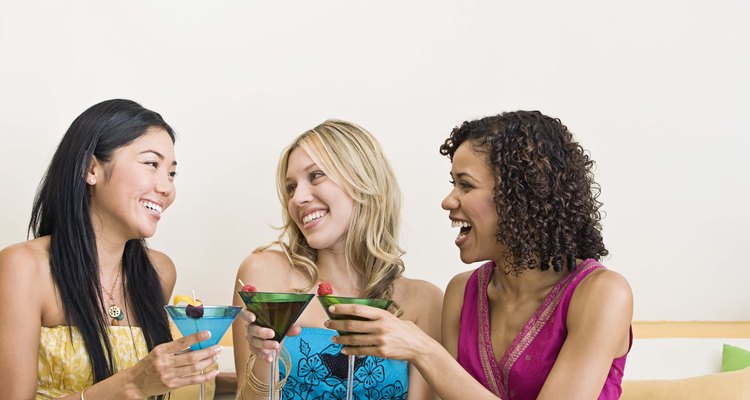 Jupiterimages/Brand X Pictures/Getty Images
Triple sec and vodka, proven staples behind any bar, mix well not only with many other beverages, both alcoholic and non-alcoholic, but also with each other. With vodka's neutral taste and smell making it a strong base and triple sec's low alcohol content and citrus flavorings adding more flavor than potency, you can mix many different kinds of drinks.
Cosmopolitans
Vodka and triple sec, two essential ingredients of cosmopolitans, work with the cocktail's other juices in different ways -- vodka's neutral taste hides behind the cranberry and lime juices while triple sec's citrus flavor heightens the juice's flavors. To mix a traditional cosmopolitan, pour 2 parts vodka, 1 part each triple sec and cranberry juice and a splash of lime juice into an ice-filled shaker tin, shake, strain into a martini glass and garnish with a lemon twist. If you want to shake things up, try an infused vodka, such as lemon- or orange-flavored, or substitute the cranberry juice with raspberry, watermelon or even clementine juice.
Kamikazes
Vodka and triple also create a balance in kamikaze shots -- the shot's lime juice masks the vodka while the triple sec helps to temper the juice. Kamikazes are also relatively easy shots with only two additional ingredients: simple syrup and lime juice. To make the traditional kamikaze, pour 2 parts vodka and 1 part each of triple sec, lime juice and simple syrup in a cocktail shaker filled with ice, shake and strain into shot glasses. If you are not in the shooting mood, serve the shot on the rocks like a mixed drink. You can also skip the simple syrup for a less sweet and more sour shot.
Teas
Vodka's subtle taste and texture and triple sec's sweet and tart citrus flavor mix well with the Long Island iced tea's laundry list of ingredients. In addition to vodka and triple sec, Long Island iced teas also include gin, white rum and white tequila --making them extremely potent -- as well as cola and sour mix. To make a classic Long Island iced tea, fill a tall glass with ice and pour in 2 parts each of vodka, gin, white rum and white tequila. Then add 1 part triple sec and 4 parts sour mix, stir, and then top with cola. You can substitute the tequila with melon liqueur and the cola for lemon-lime soda and garnish with mint for a nuclear iced tea, or substitute the tequila with amaretto and the cola with equal parts orange and cranberry juice for a Californian tea.
Martinis
Vodka and triple sec's flavor combination also mix well in different types of fruity and flavorful martinis. The lemon drop martini's lemon juice hides the vodka while being balanced by the triple sec. For a traditional lemon drop martini, pour 3 parts vodka, 1 part of triple sec and 1.5 parts lemon juice in a shaker tin with ice and strain into a martini -- you can rim the glass with superfine sugar to balance the drink's tartness. Watermelon martinis work much like lemon drop martinis in which the watermelon and lime juices overpower the vodka and is sweetened and spiced by the triple sec. For a watermelon martini, mix 3 parts vodka, 2 parts watermelon juice and 1 part each of triple sec and lime juice in an ice-filled cocktail shaker, and then strain into a martini glass.
References
Complete World Bartender Guide: The Standard Reference to More than 2,400 Drinks; Bob Sennett
Writer Bio
Chance E. Gartneer began writing professionally in 2008 working in conjunction with FEMA. He has the unofficial record for the most undergraduate hours at the University of Texas at Austin. When not working on his children's book masterpiece, he writes educational pieces focusing on early mathematics and ESL topics.
Photo Credits
Jupiterimages/Brand X Pictures/Getty Images