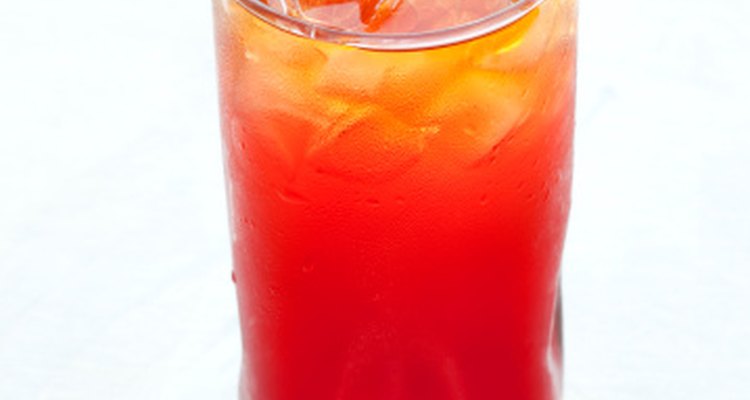 Evan Sklar/Stockbyte/Getty Images
Parrot Bay rum is the brand name for a variety of mild rum flavors from Captain Morgan. It includes many tropical and fruit flavors such as coconut, mango, passionfruit, strawberry and several citrus flavors, including orange, pineapple and key lime. Because of the light, fruity notes of Parrot Bay rum, they lend themselves well to sweet, fruity alcoholic drink mixes.
Drinks with citrus juice
The tart zest of orange juice is a perfect complement to the sweet undertones of Parrot Bay rum. Pour 6 ounces of pulp-free orange juice over crushed ice into a Collins glass. Add 1.5 to 6 ounces of mango, key lime or pineapple Parrot Bay rum. For extra sweetness, add a few splashes of grenadine. Mix well, pour into a tall glass and enjoy a sweet summer beverage. For extra visual embellishment, add a slice of orange to the glass, throw in a few maraschino cherries, or lean a kebob of mango or pineapple chunks on the rim. You can experiment with these by using grapefruit or pineapple juice instead of orange juice.
Drinks with other liquors
The Parrot Bay rum flavors mix well into drinks with other, heartier liquors, or even stronger varieties of rum. One recipe, popularly called a Sweet Dream, calls for one ounce of Parrot Baby coconut rum, half an ounce of orange liqueur, and three ounces each of orange, pineapple, cranberry and raspberry juices. Pour the liqueur and the rum first over ice in a very tall glass, pour in the juices, stir and enjoy.
Another drink, often called a Captain's Courageous, calls for two to three ounces of orange or pineapple juice, one ounce of Parrot Bay coconut rum, and one ounce of dark rum. Stir the coconut rum and juice into a Collins glass filled with ice, then pour the dark rum over the mixture. Enjoy without stirring.
Parrot Bay rum even goes well with wine: pour equal parts wine and your favorite Parrot Bay rum variety, then garnish with a twist of lemon, orange or lime for an easy cocktail.
Drinks with soda
The combination of rum and cola has long been popular, but it's easy to make a much wider variety of drinks with the different flavors of Parrot Bay rum. Stir one ounce each of cranberry schnapps and coconut rum into a 6 ounce glass of 7-Up for a light, refreshing drink with citrus and coconut notes.
One drink often called a Ship's Doctor requires one part each of lime-flavored gin and Parrot Bay coconut rum, a splash of lime or pineapple juice, and four parts Dr. Pepper soda. Garnish with a thermometer for full effect.
Add two ounces of coconut or mango rum to any orange-flavored soda to make a quick, delicious drink called a Creamsicle.
References
Writer Bio
Andrea Ruiz has written professionally for blogs, online entertainment magazines and television network websites for more than a decade. Ruiz has also been a web and social media developer, Internet business consultant and computer programmer since 1999, and worked for four years as a professional community manager. Ruiz holds a Bachelor of Arts from University of Massachusetts, Boston.
Photo Credits
Evan Sklar/Stockbyte/Getty Images