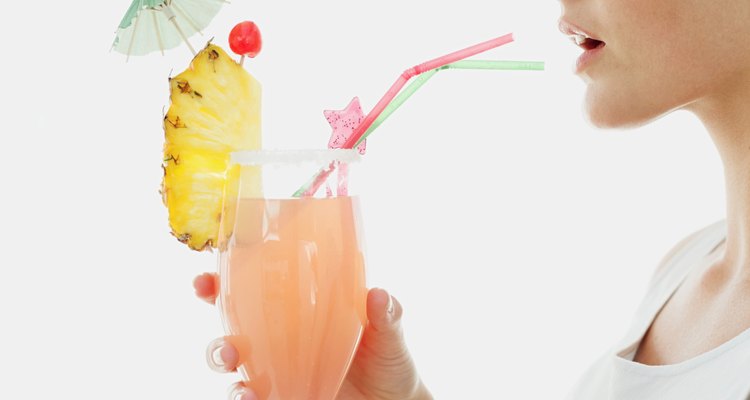 Stockbyte/Stockbyte/Getty Images
The fuzzy navel is a simple, no-fuss fruity cocktail that's easy to whip up in your kitchen or home bar. The basic fuzzy navel is made up of peach schnapps liqueur and orange juice. Some ingredient variations include vodka, peach brandy or lemonade. For a tropical twist on the original, you can switch out the orange juice for pineapple juice for a cocktail that is sometimes dubbed the Hawaiian fuzzy navel.
Fill a chilled highball glass with ice. If you don't have a highball glass, you can use any tall glass that holds up to 12 ounces of liquid.
Pour two parts peach schnapps into a cocktail shaker filled with ice.
Add four parts pineapple juice to the cocktail shaker.
Cover the cocktail shaker with the top and shake vigorously for about 10 seconds. Strain the mixture into the highball glass.
Garnish the rim of the glass with a pineapple wedge and serve.
References
Writer Bio
Based in Los Angeles, Zora Hughes has been writing travel, parenting, cooking and relationship articles since 2010. Her work includes writing city profiles for Groupon. She also writes screenplays and won the S. Randolph Playwriting Award in 2004. She holds a Bachelor of Arts in television writing/producing and a Master of Arts Management in entertainment media management, both from Columbia College.
Photo Credits
Stockbyte/Stockbyte/Getty Images