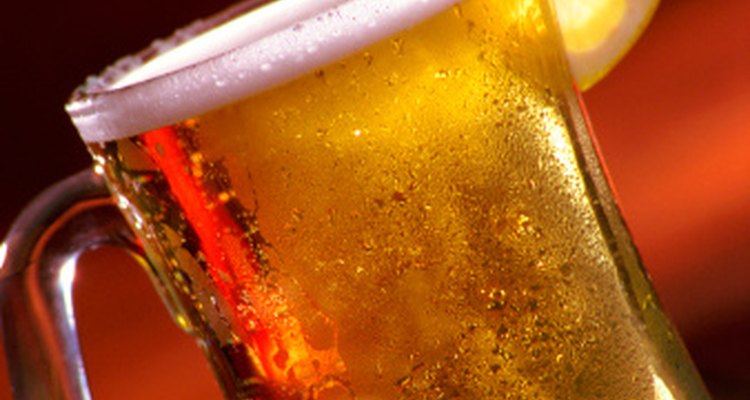 Jupiterimages/liquidlibrary/Getty Images
If a swallow of beer causes a grimace on your face, then implement a remedy to minimize its bitter taste. If you're a purist and you like to drink beer straight, make sure to chill it properly before taking the first swig. This can help reduce the unpleasant taste from a warm beverage. Otherwise, you can add something to it or mix it with something to make it more palatable.
Make a Shandy
Fill a chilled glass halfway with a clear, carbonated soda such as one flavored with lemon-lime or ginger ale. Or substitute lemonade.
Pour your favorite beer into the glass on top of the carbonated beverage.
Add ice if desired. Enjoy.
Lemon or Lime
Cut up limes or lemons into wedges for easy squeezing.
Squeeze juice from a fresh lemon or lime wedge into the bottle or mug of beer.
Hold the bottle or mug over a sink and add a few shakes of salt if you prefer a salty flavor.
References
Tips
Darker, European-style beers will often taste less bitter than their lighter ale counterparts.
Writer Bio
Based in Texas, Cynthia Measom has been writing various parenting, business and finance and education articles since 2011. Her articles have appeared on websites such as The Bump and Motley Fool. Measom received a Bachelor of Arts in English from the University of Texas at Austin.
Photo Credits
Jupiterimages/liquidlibrary/Getty Images