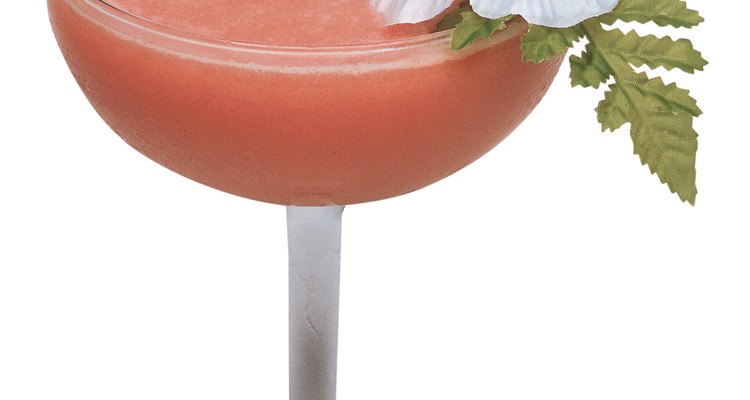 Comstock Images/Stockbyte/Getty Images
Add a kick to your refreshing summer beverage by spiking your lemonade with vodka for a grownup slushy. You can use frozen lemonade concentrate, rather than fresh homemade lemonade, when mixing the drink for a fast and easy preparation. Though it may be tempting simply to add vodka to the already slushy concentrate, the lemonade will be far too condensed and sweet. You must balance the drink by adding water as well as vodka to create a light and smooth flavor.
Step 1
Pour the contents of one can of frozen lemonade concentrate into a large bowl. If the concentrate is frozen solid, allow it to thaw at room temperature until you are able to break it up and stir it.
Step 2
Use the empty lemonade can to measure out and add one can of vodka and one can of cold water to the concentrate. Adjust the amount of vodka to your taste. If you add less vodka, replace it with water. If you add more vodka, reduce the water by the same amount.
Step 3
Zest the rind of a lemon into the bowl, to taste. Stir the mixture until combined well.
Step 4
Pour the contents of the bowl into a blender until the liquid reaches between one-third and one-half of the way to the top.
Step 5
Add ice to the blender, bringing the volume of the liquid to about three-quarters of the way full. Blend the mixture on the highest setting until smooth.
Step 6
Transfer the drink to a pitcher and repeat with any remaining concentrate mixture. Serve immediately in the glassware of your choice. Alternatively, cover the bowl containing the remaining liquid with plastic wrap and store in the refrigerator for later use, for up to one week.
References
The Craft of the Cocktail: Everything You Need to Know to Be a Master Bartender; Dale DeGroff
The Modern Mixologist: Contemporary Classic Cocktails; Tony Abou-Ganim, Mario Batali and Mary Elizabeth Faulkner
Resources
Tips
For smaller batches, simply mix only a portion of the lemonade concentrate. Maintain the equal parts lemonade concentrate, vodka and water ratio and adjust the ice accordingly.
Try using frozen strawberry or raspberry lemonade concentrate and replace some of the ice with frozen berries.
Add fresh herbs such as basil, thyme, or mint to the blender before pulsing to add a refreshing savory note to your frozen vodka lemonade.
Writer Bio
Kathryn Roberts has worked in the culinary industry for nearly a decade in various roles, including pastry chef and bakery manager. After studying at the Culinary Institute of America, she earned her BFA from Goddard College and is pursing an MFA in Writing from Vermont College of Fine Arts.
Photo Credits
Comstock Images/Stockbyte/Getty Images