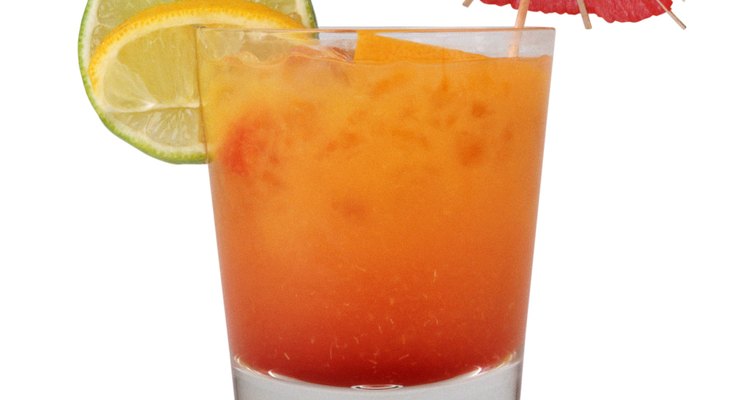 Stockbyte/Stockbyte/Getty Images
Kids are drawn to bubbly drinks that have a sweet taste. Unfortunately, soda is loaded with calories, full of bad sugars and high in caffeine. Parents that try to cut soda out of a child's diet without replacing it with an equally satisfying beverage will be met with much resistance. Instead, parents can make their young children a tasty drink using club soda. The result is a sparkly drink that is both appealing to the eye and the stomach.
Step 1
Pour 2 liters of club soda, 12 ounces of frozen orange juice, 12 ounces of pineapple juice and 1 tablespoon of grenadine syrup in a large bowl. Stir to combine.
Step 2
Distribute the contents of the bowl into individual glasses.
Step 3
Drop two cherries into each glass.
Step 4
Cut a strawberry up the middle without going all the way through the strawberry. Slide the strawberry over the rim of the glass. Repeat with the rest of the glasses.
Step 5
Decorate each glass with a drink umbrella and serve immediately.
References
Tips
Substitute fruit punch for the orange juice.
Place an orange or lemon slice over the rim of the glasses instead of the strawberry.
Writer Bio
Alicia Bodine has been a professional writer for 13 years. She has produced thousands of articles for online publications such as Demand Studios, GoBankingRates and WiseGeek. Bodine is passionate about gardening, travel, education and finance. She has received awards for being a top content producer.
Photo Credits
Stockbyte/Stockbyte/Getty Images