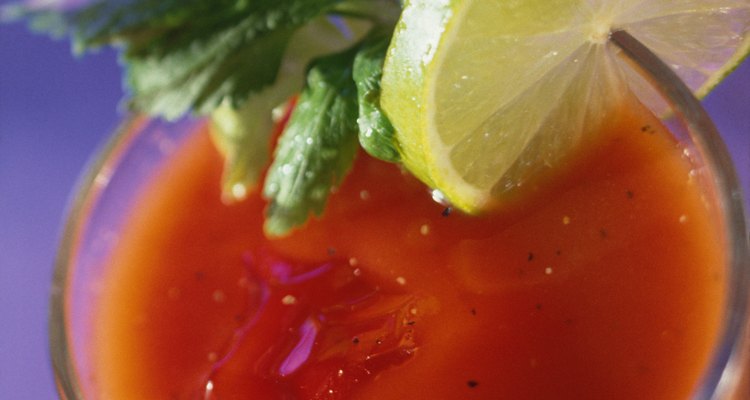 Jupiterimages/Photos.com/Getty Images
Vodka has a neutral taste that makes it an ideal spirit to use to experiment with flavor infusions. You can purchase commercially infused vodkas at your local liquor store, but you can also create your own flavored vodkas at home. If you're in a pickle as to what to try first, give pickle-infused vodka a shot. Pickle-infused vodka perks up classic cocktails like bloody Marys and dirty martinis, or simply sip it on the rocks with a meat and cheese plate. Choose from two infusion methods to make your own pickle-infused creation in just a matter of days.
Infusing Vodka With Pickle Brine
Step 1
Select the type of pickle brine you would like to use -- either store-bought or homemade -- and strain it to remove pickle pieces and seeds.
Step 2
Add 3 parts vodka to 1 part strained pickle brine to a glass decanter or mason jar.
Step 3
Seal the container tightly and store the vodka in a cool, dark place for at least three to five days.
Infusing Vodka With Fresh Vegetables
Step 1
Rinse the cucumbers with cool, running water to clean. Cut 2 fresh cucumbers into 1/2-inch slices. Use seedless cucumbers to avoid having to later strain out the seeds, if desired.
Step 2
Step 3
Add cucumbers, garlic cloves and the desired amount of fresh sprigs of dill to a glass decanter. Add a jalapeno, halved and seeds removed, to create a spicy pickle vodka.
Step 4
Add a 750 ml. bottle of vodka to the glass decanter. Tightly seal the decanter.
Step 5
Let the mixture infuse in a cool, dark place for three to four days. Once the vodka has achieved the desired flavor, strain and remove the vegetables.
References
Tips
The flavor will increase in strength the longer you let it sit.
Sample your infusion daily and remove fresh ingredients once it has the desired flavor.
Writer Bio
Christina Kalinowski is a writer from the Twin Cities who began her career in 2011. She contributes food and drink related articles to The Daily Meal. She holds a Master of Arts in sociology from Purdue University.
Photo Credits
Jupiterimages/Photos.com/Getty Images