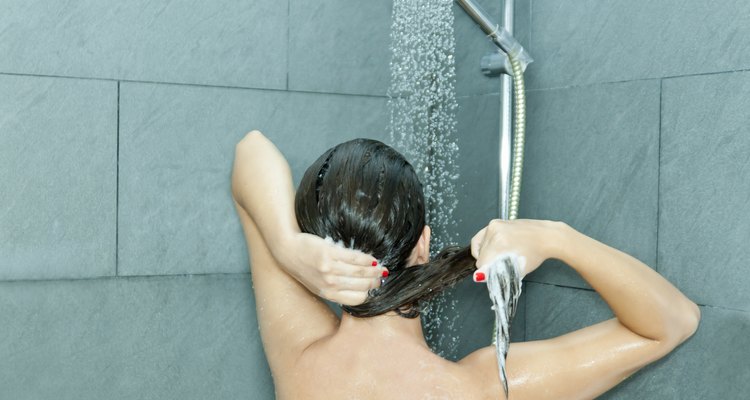 Salvador Benítez San José/iStock/Getty Images
Cucumbers contain vitamins and nutrients that are not only good for your health, but are also good for the health of your hair. They help to strengthen and condition your hair, leaving your strands smooth and shiny. Chop up a cucumber for a rinse that will transform your hair from blah to ooh-la-la.
Peel a medium-size cucumber with a knife or vegetable peeler. Chop the cucumber into small chunks and place in a food processor or blender.
Remove the peel of a lemon with a knife. Cut the lemon into fourths and place in the food processor or blender.
Blend the cucumber and lemon until it becomes a smooth puree. Pour the mixture through a strainer into a bowl to remove the large chunks and any seeds.
Wash your hair as usual. Pour the cucumber rinse through your hair, starting at the roots and working it down through the ends with your hands. Massage your hair thoroughly to ensure even distribution.
Rinse your hair with water to remove any remnants of the cucumber mixture and towel-dry your hair. Style as usual.
References
Writer Bio
Kimbry Parker has been writing since 1998 and has published content on various websites. Parker has experience writing on a variety of topics such as health, parenting, home improvement and decorating. She is a graduate of Purdue University with a Bachelor of Arts in organizational communication.
Photo Credits
Salvador Benítez San José/iStock/Getty Images