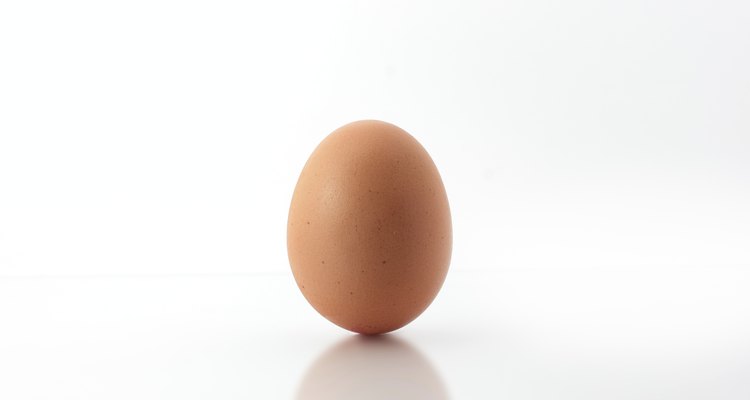 underlein/iStock/Getty Images
Store-bought hair treatments aren't the only products you can use to make sure your locks are luxuriously healthy. Many conditioners and rinses made from household products work wonders for even the most damaged hair, according to the book "The World's Best-Kept Beauty Secrets." Mayonnaise, eggs and apple cider vinegar are three of the most prominent ingredients in homemade hair treatments.
Magic of Mayonnaise
The fat and oil in mayonnaise work as a deep conditioner for parched strands. Additionally, the vinegar in mayonnaise balances your hair's pH. "Herbal Treatments for Healthy Hair" recommends applying a weekly mayonnaise hair pack. Wet your hair with warm water, then massage 2 to 4 tablespoons of mayonnaise into your scalp and locks. Cover your hair in a plastic bag and wait for 30 minutes, then shampoo your hair as usual.
Protein Power of Eggs
Eggs, which are almost pure protein, can keep your hair looking healthy and thick. To apply egg to your hair, wet down your strands with cool water. Beat two eggs into 1 cup of cool water. Work the mixture into your hair and scalp with your fingertips. Let the conditioner soak in for five to 10 minutes, then rinse it out using cool water. Repeat the treatment once or twice a week.
Cleanse With Vinegar
Apple cider vinegar can help eliminate flaky dandruff, and add shine and bounce to your hair. "The World's Best-Kept Beauty Secrets" says that the vinegar's natural antifungal properties kills substances that can cause dandruff, and its acidity strips your strands of residue from styling products. To make a simple apple cider vinegar rinse, combine 1 tablespoon of vinegar with 1 quart of water. Pour the mixture over your head as a final rinse right before you get out of the shower. Repeat the treatment each time you wash your hair.
References
The World's Best-Kept Beauty Secrets; Diane Irons
Herbal Treatments for Healthy Hair; Greta Breedlove
Photo Credits
underlein/iStock/Getty Images