Olive oil is a cleansing agent that is rich in antioxidants. Antioxidants attack free radicals that do harm to the body. Coconut oil absorbs readily into the skin to reduce itching and relieve dry skin. This oil is one of the best natural nutrients for the hair, preventing dandruff, lice and lice eggs. The healthiest oils for external skin care include almond, avocado, Castor, coconut, olive and walnut, according to Homemade beauty Recipes. Honey moisturizes and provides vitamins and minerals essential to strong, shiny hair.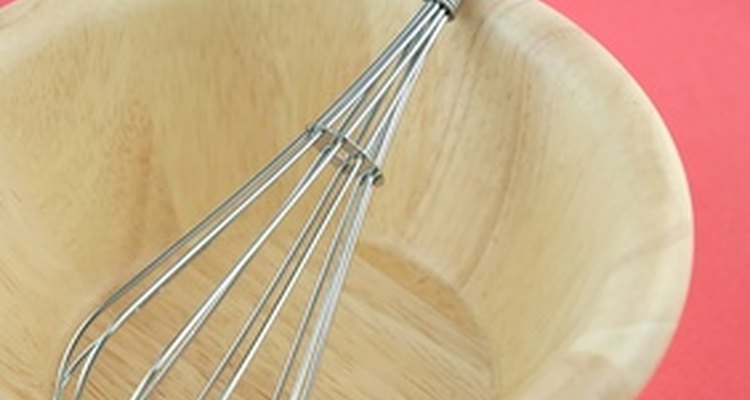 wire whisk in wooden bowl image by Jarek Miarka from
Fotolia.com
Combine all of the ingredients in a one-quart mixing bowl. Whip the ingredients together with a wire whisk.
Pour the ingredients into a clean, empty squeeze bottle. Gently shake the bottle for 60 seconds. Use half of the contents on your dry hair, massaging the ingredients through the length of your hair.
Cover your hair with a plastic shower cap or plastic wrap. Wait 20 minutes for your hair to condition.
Shampoo your hair with your regular shampoo, using a creme rinse if needed for hair that tangles easily. Dry and style your hair as usual. Keep the remaining conditioner in the refrigerator for up to three days.
References
Writer Bio
Barbara Stanley has been writing since 2003. Her stories have appeared in many national publications such as "Country Woman," "Wildbird," "Grit," "Capper's" and over a dozen more. She has a story on past loves published in the book, "If only I Could Tell You." Stanley has studied at the Pearl River Community College and the University of Southern Mississippi.
Photo Credits