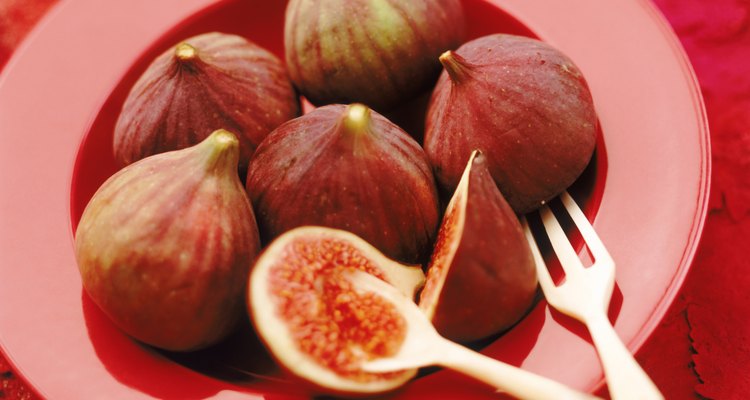 John Foxx/Stockbyte/Getty Images
Infusing vodka is so easy, you could accidentally spill some figs into a jar of vodka and have fig-flavored vodka in a couple weeks -- well, almost. That's the basic idea, but there are other factors to consider if you want quality fig-infused vodka. Infusing vodka is a simple solvent extraction: the solvent, alcohol, extracts the volatile oils, those responsible for flavor, color and aroma, from the figs. You don't need to spring for top-shelf vodka, but for a clean solvent extraction, you need pure vodka -- distilled-at-least-four-times pure. Fresh figs, taken at the height of ripeness, completes the equation.
Step 1
Rinse the figs under cold running water. Twist off the stems, and peel away the skins.
Step 2
Scrape away any clinging skin using a paring knife. Chop the figs into quarters, and place them in glass jars. Leave enough headspace in the jars to cover the figs by a few inches.
Step 3
Pour room temperature vodka over the figs. Use 1 to 1 1/2 cups of vodka for every cup of figs.
Step 4
Seal the jar and place it out of direct sunlight. You can infuse the vodka in the refrigerator, but it usually takes a day or two longer than vodka infused at room temperature.
Step 5
Shake the jar vigorously each day. Taste the fig vodka after a week. Infuse the vodka up to a week or two longer, tasting every couple days, until it reaches the desired flavor.
Step 6
Pour the vodka through a sieve lined with a few layers of cheesecloth or a coffee filter to strain out the fruit fibers and other solids.
Step 7
Transfer the vodka to a serving bottle. You can use the jar, or any bottle, as long as you can seal it airtight.
Step 8
Store the fig vodka out of direct sunlight. Infused vodka keeps indefinitely.
References
Tips
Buy in-season, locally grown figs, and within a couple days of harvesting, if possible, for best results. Figs have two seasons: early summer and fall.
Check the figs for any cracking and blemishes before you buy. The figs should be ripe, but slightly firm, and free of blemishes and split skin.
Mix the fig vodka with simple syrup, or equal parts sugar and water simmered until syrupy, to add sweetness. Don't add sugar directly to the vodka.
You can use 80- or 100-proof vodka. Higher-proof vodkas extract more flavor in a shorter time, but have a harsher taste.
Warnings
Don't use potato- or rye-fermented vodka. Use vodka fermented with wheat, grain, corn, barley or a combination thereof. Rye and potato vodkas don't take on additional flavors and aromas readily.
Writer Bio
A.J. Andrews' work has appeared in Food and Wine, Fricote and "BBC Good Food." He lives in Europe where he bakes with wild yeast, milks goats for cheese and prepares for the Court of Master Sommeliers level II exam. Andrews received formal training at Le Cordon Bleu.
Photo Credits
John Foxx/Stockbyte/Getty Images