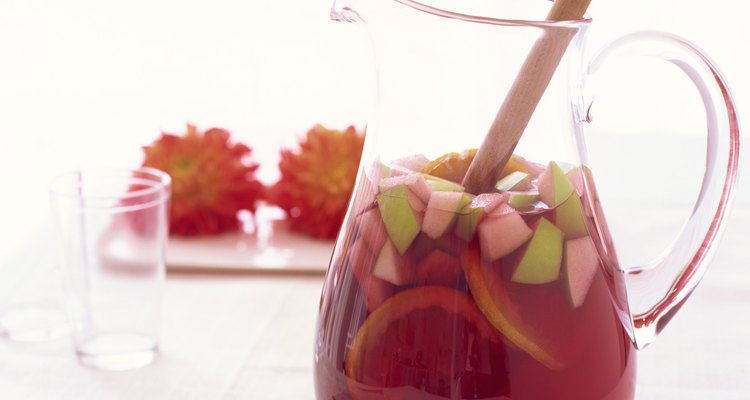 Creatas Images/Creatas/Getty Images
White Zinfandel is a light, fruity wine made with the red-skinned, Zinfandel grape. After the grapes are crushed, the skins are quickly removed leaving pink-tinged wine, which is then processed like other white wine. White Zinfandel is also known as the "fruit punch" of wines making it perfect for flavorful sangria recipes.
About Sangria
Sangria is a Spanish drink made with wine, fruit-flavored liqueur and fresh fruit. It is served in Spain in summer and year-round in tourist areas. Sangria was introduced to the U.S. in 1964 during the World's Fair and has evolved to include countless flavorful variations.
Liquor and Liqueur
Most sangria recipes are made with wine and at least one other alcoholic ingredient. Use fruit-flavored liqueur, such as peach schnapps, triple sec, limoncello, pear brandy or melon liqueur, or use an unflavored liquor, such as vodka or gin. Experiment with your white-Zinfandel-to-liquor ratio so you don't overwhelm the flavor of the wine.
Mixers
White Zinfandel has a small amount of carbonation, but if you prefer more fizz, add a splash of tonic, sparkling soda, ginger ale, mineral water or lemon-lime soda. If you want fruit flavor without the addition of alcohol, skip the fruit-flavored liqueur and add a bit of orange, cranberry or pineapple juice. Citrus is traditionally included in sangria because the acidity of citrus fruit cuts the sweetness of the wine. Adding orangeade, carbonated lemonade or fruit-infused seltzer is another option.
Variations
White Zinfandel is forgiving and versatile. Add fresh fruit, such as sliced grapes, thinly cut orange slices, pear wedges, berries, pitted cherries or diced apples to your sangria. A sprig of mint or rosemary will add an earthy, herbal element to white Zinfandel's sweet nature.
References
Writer Bio
Aline Lindemann is a health, food and travel writer. She has also worked as a social worker, preschool teacher and art educator. Lindemann holds a Master of Liberal Studies in culture, health and creative nonfiction writing from Arizona State University.
Photo Credits
Creatas Images/Creatas/Getty Images