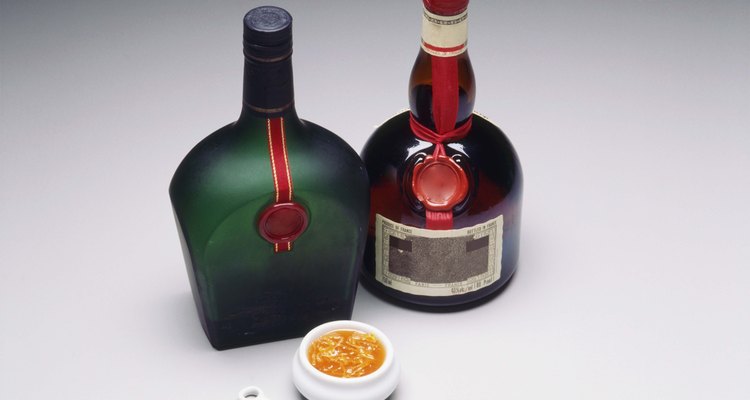 Jupiterimages/Comstock/Getty Images
Framboise liqueur can either be intensely colored, such as black raspberry liqueur, or a colorless, as in raspberry eau-de-vie or "water of life." In either case, framboise comes from flavored brandy or from other liquor using distilled fruit juice. Framboise, the French word for its namesake fruit, has an intense and sweet raspberry flavor. Your options for framboise substitutes range from other fruit liqueurs to fruit syrups to raspberry syrups you make yourself.
Other liqueurs
Any number of fruity liqueurs can substitute for framboise in cocktails as long as you are willing to go with an alternate flavor. Your options include other eau-de-vies, such as pear, apricot, cherry and plum, also known by their French names poire, abricot, kirsch and mirabelle. Liqueurs that have the intense color of some framboise brands include creme de cassis, a dark, black current liqueur; or curacao, a golden, rum-based, orange-flavored liqueur.
Non-Alcoholic Substitutes
Often used in non-alcoholic cocktails, intensely sweet pomegranate grenadine mimics the dark color of framboise. Raspberry fruit syrup meant for pancakes or melted raspberry jelly both give you the flavor of raspberries without the alcohol; for alternate flavors, use red current or apricot jelly. To balance the sweetness of syrups or jellies, add a few teaspoons of lemon juice for a bit of acidity in fruit compotes or cocktails.
Desserts
Dessert recipes often pair raspberries with almonds, whose rich flavor balances the tang of the berries. In these desserts, substitute vanilla extract for the framboise, because vanilla also pairs well with almonds. The same range of fruit liqueurs that you substitute in cocktails also work in desserts. For example, use either framboise, creme de cassis, or curacao mixed with fresh raspberries as a topping for lemon creme brulee.
Homemade Raspberry Syrup
Homemade raspberry syrup mimics the flavor of framboise and avoids the overly sweet or artificial taste of raspberry pancake syrup. To make raspberry syrup, combine equal parts fruit and water with a teaspoon of lemon juice. Cook the mixture for about 15 minutes and strain it to remove the raspberry seeds. Return the liquid to a boil and add 1-1/2 parts sugar, cooking and stirring until the sugar dissolves.
References
The Deluxe Food Lover's Companion; Sharon Tyler Herbst and Ron Herbst
Writer Bio
Susan Lundman began writing about her love of cooking, ingredient choices, menu planning and healthy eating after working for 20 years on children's issues at a nonprofit organization. She has written about food online professionally for ten years on numerous websites, and has provided family and friends with homemade recipes and stories about culinary adventures. Lundman received her M.A. from Stanford University.
Photo Credits
Jupiterimages/Comstock/Getty Images