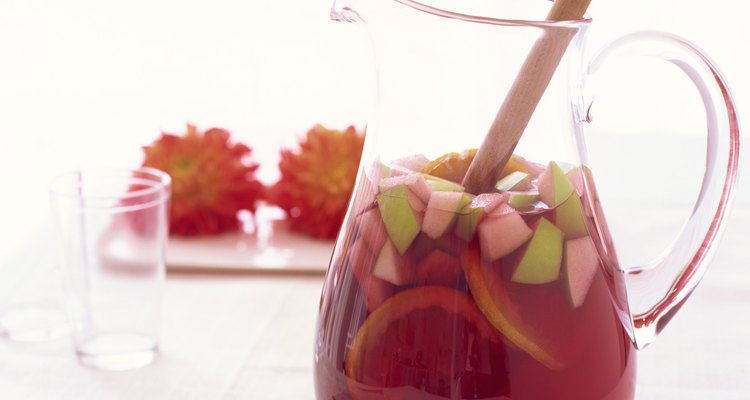 Creatas Images/Creatas/Getty Images
Sangria is a wine-based beverage traditionally made with fruit juice and other alcohols to fortify the drink. Serving sangria over ice makes it a refreshing summer beverage. Knowing which types of juice work best in sangria make mixing it for parties or barbecues a breeze for harried hostesses. Choose the right juice for your sangria to impress and refresh thirsty guests.
Red Sangria
Delicious with pasta dishes, grilled burgers and pizza, red sangria blends red wine with brandy or other spirits and fruit juice to refresh guests at a summer cookout or gathering. In red sangria, citrus juices such as freshly squeezed orange, lemon or lime juice complement the sweetness of the wine and liqueur. However, cranberry juice cocktail can add a welcome tartness for those with less-sweet tastes. If you want a bit of fizz, choose a lemon-lime soda to finish or a soda water with a splash of lime and garnish with citrus wedges.
White Sangria
White sangria, with its sweeter and lighter-bodied flavor compared to the red wine version, complements salads and grilled poultry, as well as summer fruit hors d'oeuvre and quiches. White sangria works well on a brunch table and serves equally well at a late-night dessert reception. Lemon juice always works in white sangria, but consider adding sweeter juices such as white grape juice or apple juice as well. Finishing white sangria with a sparkling cider instead of soda gives it additional sweetness and makes it the perfect complement to spicy sauces and appetizers.
Rose Sangria
Blush wine, combined with fruit juices and light liquors such as vodka or rum, creates a sangria that pairs perfectly with cheese courses, pastries, barbecued meats and roasted vegetables. Use juice blends such as mango-peach or pineapple-orange to complement the sweetness of rose sangria without overpowering the delicate blush wine. Chop strawberries and fresh mangoes to soak in the cocktail, and finish with plain soda water if carbonation is desired.
Secrets for Improvisation
When in doubt, improvise. Sangria contains any combination of wine, spirits and juice, so you can call a range of such blends "sangria" as long as the finished product tastes right. Keep in mind a few rules to improvise the perfect beverage. Taste as you go. Sangrias that need sweetness can use some sweet juice such as apple cider, white grape juice or cranberry juice cocktail. In a pinch, add a sweetened juice such as lemonade. If the sangria needs additional tartness, squeeze lemons or limes into the concoction and throw the squeezed wedges into the mix. Try pomegranate juice to add tartness and sweetness, as well as a bright red color. Scale back an overly flavored cocktail with plain soda water or tonic water.
References
Resources
Writer Bio
Andrea Lott Haney writes articles and training materials for food industry publications. Having studied foodservice sanitation, nutrition and menu planning at Purdue University, Lott Haney has more than 10 years of experience as a catering and event planner for luxury hotels and currently tours the Midwest as a corporate customer service trainer and consultant.
Photo Credits
Creatas Images/Creatas/Getty Images