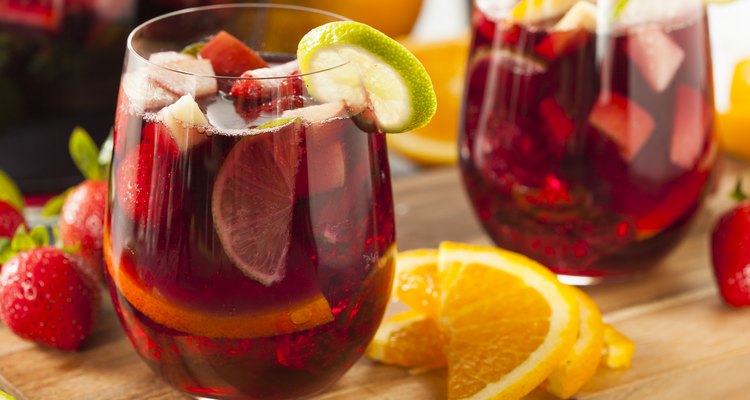 bhofack2/iStock/GettyImages
With roots in Spanish and Portugese culture dating back hundreds of years, sangria is a drink that pairs easily with several types of food. This sweet, wine-based drink is infused heavily with fresh fruit, and can be tailored to individual taste. As a result, pairing sangria with the perfect meat is more of an art than a science, subject to the whims and expertise of the chef and craft cocktail creator.
Color Me Red
As with most wine pairings, the color of the wine used in the sangria recipe indicates the preferred meat pairing. Most, though not all, sangria drinks are created with red wine, traditionally a Spanish wine such as Tempranillo or Rioja. For this reason, red meat is a natural choice to serve with sangria. When dining at a Spanish or South American restaurant, try sangria with the carne asada on the menu. An outdoor barbecue at home with friends and family calls for grilled steaks or fresh salmon. Smoked red meats are an excellent choice as well.
Light and White
Sangria recipes, especially those designed for North American tastebuds, are increasingly showing up with white wine as the starring ingredient. Chenin Blanc or Verdejo grapes mix well with the citrus fruits routinely used in sangria concoctions. Lighter meats such as chicken and white fish, as well as center cuts of pork, are a good option. Grilled, light dishes complement the fruity flavors of sangria better than fried or gravy-based recipes. To please the seafood crowd, try serving sangria with tilapia, halibut or prawns.
Spicy Delights
Going back to its roots, sangria very often crops up at dinner parties serving Latin or southwestern European menu items. Spain and Portugal are known for spicy food, which is expertly tempered by the fruity flavors of sangria. Regardless of what meat you choose to serve with sangria, the way you flavor it is what makes it a stand-out pairing. Turn up the heat on your cuisine with various peppers, cumin or paprika; choose a smokey pimenton from Spain for an authentic flavor.
Finger Foods
For those evenings when you are just grazing, or are having a few friends over for tapas before an evening out, sangria goes hand-in-hand with finger foods. Meatballs are a favorite among those who like a little substance to their nibbling. Season them to taste, adding a bit of spice if you like, and sizzle lightly in a pan or on the grill. Serve small plates of shrimp sauteed in garlic and cayenne pepper. Because sangria recipes are so varied and can be built around your favorite flavors, experiment with pairings until you find the perfect balance of spices in your meats and fruity drink flavors to please your own tastebuds.
References
Resources
Writer Bio
Wendy K. Leigh is a travel writer and photojournalist from Seattle. She is the Editor of Islands America, a travel website for visiting islands within the United States. She also writes about home design, food and historical architecture. Leigh holds a Bachelor of Arts in English from the University of Washington.