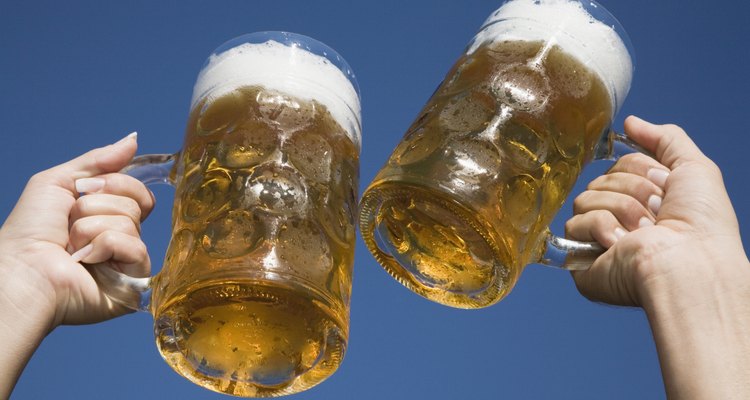 Polka Dot Images/Polka Dot/Getty Images
Many different types and styles of beer make a flavorful marinade for beef ribs. When selecting a beer for a marinade, remember that the function of alcoholic beverages in marinades is to add flavor, not to tenderize meat; select beers that have flavor to give. Generally, avoid pale, watery, flavorless, mass-market beers that add little to no flavor to your ribs. Don't use beers that have strong, hoppy, bitter flavors because they tend to produce a finish that is excessively bitter to the taste.
Cook It First
Alcohol does not tenderize meats; instead, it chemically cooks them, which is not a good thing at all for the flavor or texture of your beef. Thus, before you use any beer in a beef marinade, you should first cook off the alcohol by boiling the beer for a few minutes and then allowing it to cool before using it in your marinade.
Sour and Fruity
Kriek lambic, a traditional Belgian beer, is a sour beer spontaneously fermented with cherries. Typically, this beer has a tart cherry flavor, low alcohol and very little hop flavor or bitterness. Cherries, especially sour cherries, are a good pairing for the strongly beefy flavor of beef ribs, and kriek will introduce a sour cherry flavor to your ribs. Mix kriek with garlic, peppercorns and a touch of lemon juice for a zesty, spicy marinade for especially good grilled beef ribs. To up the cherry flavors even more, consider grilling or smoking kriek-marinated ribs with cherry-wood chips or over cherry-wood chunks.
Smoky and Flavorful
Rauchbiers, German for "smoke beers," are historically German beers -- typically lagers -- that have distinctively smoky characteristics. Traditionally, these beers are made by drying brewing malt, usually barley, over open fires where the grains pick up a smoky character -- much like meats picking up smoke flavors in a pit barbecue. Rauchbier adds smoky flavor to your marinade without a smoker or grill, ideal for winter conditions when you can't grill or if you live in an apartment or condominium.
Marzen
Marzen, also sometimes called "Oktoberfest" or "Oktoberfest-Marzen," is a copper-colored lager originally from the Bavaria region of southern Germany that is now also made by many micro-breweries in the United States. Traditionally brewed in March -- Marz is German for "March" -- Marzen was tapped in the early fall and drunk during Munich's Oktoberfest celebration. With toasty, malty characteristics and hints of sweet caramel, the flavors and color primarily come from the toasted malt used to make the beer. Marzens make a somewhat subtle marinade for beef ribs when mixed with garlic powder, salt and pepper. Alternatively, mix Marzen with soy, garlic, mustard, fresh herbs and Worcestershire sauce for a tangy, sweet and malty marinade. If you can't find Marzen -- it's a traditionally seasonal beer, though some breweries make it year-round -- try using a bock or another lightly or moderately hopped amber lager in your marinade.
References
French Laundry Cookbook; Thomas Keller
Writer Bio
Kurt Schrader has been writing professionally since 2005. He has also worked in the hospitality and travel industries for more than 10 years. Schrader holds a bachelor's degree in management, a master's degree in information studies and a Juris Doctor from Florida State University.
Photo Credits
Polka Dot Images/Polka Dot/Getty Images