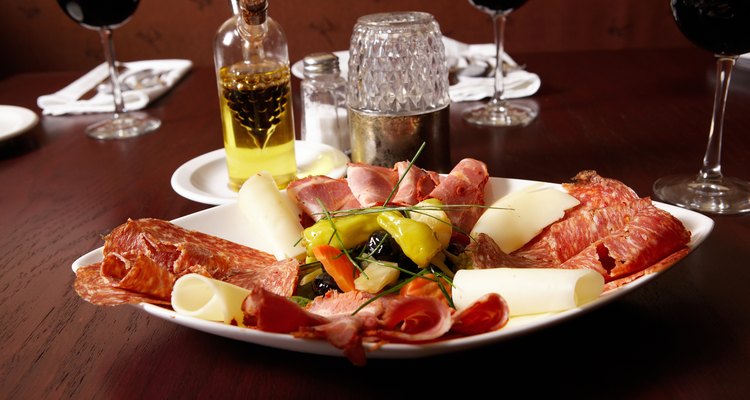 Jupiterimages/Photos.com/Getty Images
"Super Tuscan" is a term used to describe wines produced in Italy that do not adhere to the strict wine laws of Tuscany. These bolder bodied wines were first created in the 1970s when winemakers in the region wanted to experiment with creating other types of wines besides Chianti. The term was also first used to distinguish these wines from the typical "table wine" that the region had become known for. These wines are creating by merging combinations of Cabernet, Merlot and Sangiovese grapes. As a result of their variety, they easily pair with a wide range of food.
Appetizers
An antipasto platter with meats and rich hard cheeses will stand up to the flavors of these full-bodied wines. Foie gras and rich pates pair well with this wine as a starter course. Stuffed portabella mushrooms, heavy with herbs will go deliciously with a deep Sangiovese. The combination of mushroom and goat cheese will also be complimented by a superb Chianti. Another good pairing with Chianti is bruschetta, rich with garlic and succulent roasted red peppers.
Vegetable Dishes
This big, bold wine should be matched with hearty food that will stand up to it. Think regionally, and choose Tuscan-inspired dishes. A lush mushroom lasagna with tangy tomato sauce and Parmesan cheese works deliciously with a Cabernet- Merlot influenced wine. Polenta with a creamy sauce is another good pairing that would work well with this varietal. White beans with garlic and rosemary also pairs well with super Tuscans. Any vegetable pasta dish with deep, complex flavors is also a good pairing. Bitter greens like kale and rapini make great side dishes with super Tuscans.
Fish Dishes
Delicate fish dishes can be overpowered by the bold flavors of super Tuscans. If looking to pair fish or seafood with these wines, go for rich, heartier dishes. A substantial seafood stew such as a cioppino will work deliciously with these types of wines. A meaty swordfish with onions and capers will also stand up to their fuller flavors. Seared tuna served with cannelloni beans and rosemary works deliciously with an opulent Sangiovese/Cabernet/Merlot blend.
Meat Dishes:
Super Tuscans and meat go hand in hand as a lot of Tuscan dishes feature braised beef and veal. Grilled pork loaded with herbs will be complemented with a number of these varietals. Osso buco, a hearty stew made with lamb shanks, is a perfect pairing with these bold wines. Veal parmesan is another dish that can stand its own when paired with these heavier wines. Rich sausage dishes work wonderfully with a super Tuscan that features strong spicy, peppery notes. Meat-based pizzas, especially if wood-fired, will also highlight the complex flavors in these wines.
References
Writer Bio
Candi Canncel is a writer covering food and drinks, travel and lifestyle. Her work has appeared on Food and Wine Travel, Craft Gossip, Belltown Local and other publications. She also teaches cooking classes and hosts food/wine seminars.
Photo Credits
Jupiterimages/Photos.com/Getty Images