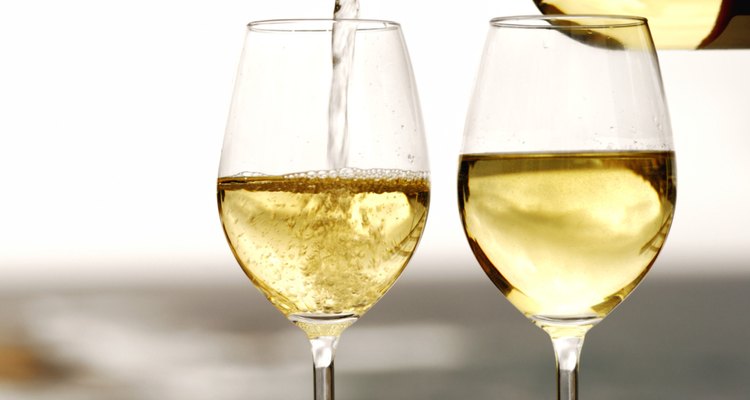 Stockbyte/Stockbyte/Getty Images
Savory and delicious, Chinese dumplings pair well with a wide range of wine varietals. Typically made with pork, minced shallots, Napa cabbage, garlic and fresh ginger, Chinese dumplings are served with soy sauce or hot chili sesame oil for dipping. Both white and red varieties of wine are complementary to Chinese dumplings. When selecting a bottle, choose a wine that reflects the ginger and spicy flavors of this dish.
Savor With Sauvignon Blanc
Sauvignon blanc is a bright white wine. Unlike chardonnay, which tends to be very full-bodied, sauvignon blanc possesses a tart, citrus flavor that seems to dance on the tongue. It is an accessible wine with many bottlings and price points available. Its mild flavor is one that wine novices and connoisseurs alike can appreciate. The wine possesses flavors that range from citrus fruits and melon to grassy and herbal flavors. Other bottlings showcase an oaky or vanilla flavor, with a bit of spice. Its low to medium acidity pairs well with the saltiness of soy sauce and the zest of fresh ginger.
Reach for the Riesling
Originally from Germany, riesling is produced around the world today. It offers wine fans a wide range of flavors and sugariness. Riesling may either be dry or sweet, so take this into consideration when purchasing a bottle as an accompaniment to your Chinese dumplings. Select a dry or medium-dry bottling of the wine with flavors of apricot and apple, such as rieslings from Austria, for the best pairing with Chinese dumplings.
Pick a Pinot Noir
Pinot noir is lauded as the ultimate food-friendly wine. It pairs with just about anything, including pork which is the most common meat used in Chinese dumplings. With fruit flavors that range from sweet cherries to ripe berries, pinot noir is a red wine that most wine drinkers enjoy. Select a flavorful New Zealand pinot noir to pair with your Chinese dumplings. The mild acidity of the varietal will complement the red chili sauce used for dipping. Its lightness will offset the dumplings' tendency towards oiliness.
Get Adventurous With Gerwurztraminer
Gerwurztraminer is a cool-climate white wine originally from the Alsace region of France. The French versions of the wine are too robust for Asian cuisine, but the American version is a perfect fit. Full-bodied with flavors of apple and apricot, American gerwurztraminer has a hint of sweetness with a delicate spice finish. The wine is improved by bold flavors like that in ginger, which brings out the wine's inherent spiciness.
References
Resources
Writer Bio
Meg Winkler began professionally writing in 2008. She has covered a variety of topics including fine wine, interiors, the arts, lifestyle and history. Winkler has been a luxury publications editor and music critic. She is an independent author and holds a Master of Arts from American Military University.
Photo Credits
Stockbyte/Stockbyte/Getty Images