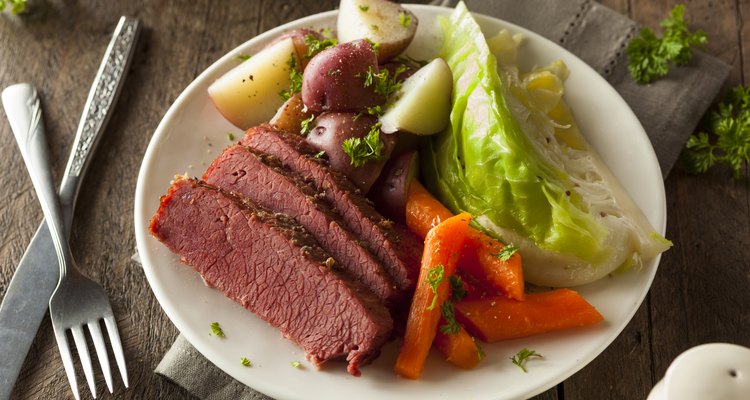 bhofack2/iStock/GettyImages
Cabbage finds its way to the table pretty reliably on Saint Patrick's Day, but it's often overlooked during the year's other 364 days. This is a shame, because it's a tasty and healthful vegetable that's both inexpensive and versatile. Its sweet and mellow flavor complements a wide range of meals, regardless of what the entree might be.
Red Meat Suggestions
Few meats go as well with boiled cabbage as the time-tested corned beef. This flavor combination excels because the cool cabbage contrasts with the intense, salty flavor of the meat. While boiled cabbage accents nearly any type of beef, duck also serves as a lesser-used, but equally effective, pairing. The savory, rich flavor of duck works well with the moderately sweet taste of cabbage. For intensely flavored red meats, boil savoy cabbage, which lends a mellow flavor to the dish.
White Meat Suggestions
Pairing cabbage with chicken makes for a light, soothing dish, but may lack intensity -- spice the meal up with another, more flavorful side to alleviate that issue. For an effective sweet and savory contrast, serve boiled cabbage with a pork entree. Boiled cabbage with butter goes particularly well with pork. When serving white meat entrees, try red boiled or napa cabbage -- also known as Chinese cabbage -- to add a peppery flavor to the meal.
Cured Meat Suggestions
While roasted or grilled pork make for traditional, tried-and-true cabbage pairings, cured pork intensifies the flavor of boiled cabbage, making for a nice contrast between subtle and salty. Bits of smoked bacon or pancetta, for instance, add a flavorful pop to boiled cabbage. Pan fry the bacon to add a contrasting crisp texture to this soft side dish.
Additional Pairings
Meat isn't the end of the story when it comes to complementing boiled cabbage. Australia's Good Taste magazine recommends accenting cabbage with blue cheese, caraway seeds, coriander, feta cheese, garlic, mustard, olive oil, Parmesan or walnuts. Add meat stock to your boiled cabbage for additional flavor, or season it with apple cider vinegar, red wine, cayenne, cumin or juniper for a little extra kick. The classic cabbage and onions combo, used for both boiled and sauteed cabbage, is a Middle Eastern tradition that satisfyingly pits the spiciness of onions against the coolness of cabbage.
References
Resources
Writer Bio
With a diverse professional background and a decade of experience as a freelance writer, Dan has contributed lifestyle content -- from fashion to travel to fitness and more -- to publishers including Chron, Fortune, Sony, GlobalPost, ModernMom, Moviefone, Salon.com, Techwalla and dozens of others.