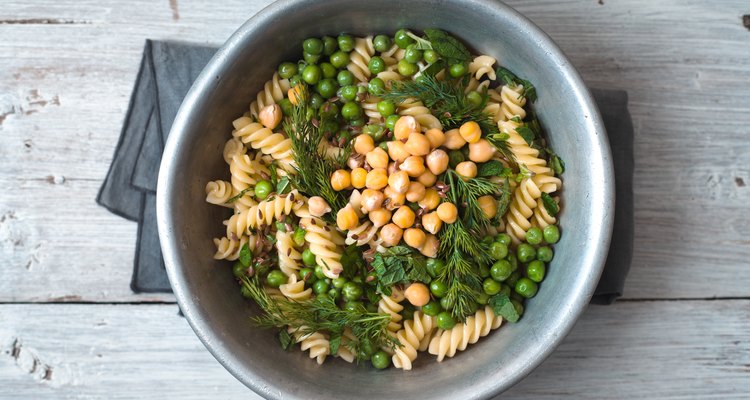 KarpenkovDenis/iStock/GettyImages
Comforting Combinations for the Ultimate Comfort Food
Pasta salad is a comfort food that can be adapted in limitless ways and creatively integrated into just about any meal. When combining pasta salads with other dishes to design a balanced meal, take into account the type of pasta salad you're serving and the crowd you're feeding. Because pasta salad is starchy by nature, take care to serve it with both lighter ingredients such as vegetables, and protein-rich ingredients such as meats, beans or cheese. These ingredients can be combined with the pasta as part of the pasta salad, or they can be important components of the dishes you serve alongside it.
Mighty Proteins
Steak makes a fine complement to pasta salad, foiling comforting carbohydrates with high quality protein. Burgers also pair well with pasta salad, even though they already come with buns. For a vegetarian protein to serve with pasta salad, serve a hearty bean dish. You can also mix your protein into the pasta salad. Bacon, in particular, provides concentrated flavor nuggets to accent the easy smoothness of the pasta, and a little bit goes a long way. Cheese provides bursts of flavor as well, especially strongly flavored cheeses such as Parmesan and blue cheese.
Heart-Healthy Vegetables
Pasta salad works in a meal alongside light vegetable dishes such as slaws and green salads. These leafy greens are especially appealing with pasta salad for a summer picnic, where food should be light and cold. If you're barbecuing, try skewering a colorful selection of roasted vegetables and cooking them on the grill. For a winter menu, serve pasta salad alongside mixed roasted vegetables. Use carrots, zucchini, butternut squash, broccoli or whatever you enjoy and whatever looks good at the supermarket. Toss them with olive oil, salt, pepper and seasoning that complements your meal, and roast them at 400F until they just start to brown. Alternatively, add spinach or cabbage to your pasta salad in the summer, or toss roasted vegetables with pasta in the winter to create a healthy, balanced dish.
Dessert
Because pasta salad can be heavy, it works well with light desserts such as sorbet or lemon bars. Fresh fruit makes a worthy complement as well, especially watermelon at a picnic. Avoid dense starchy desserts such as rich cakes or tarts.
Friendly Flavors
When creating a meal with pasta salad, pay attention to the types of flavors in your salad and choose accompanying dishes to match them. A tortellini salad with fresh basil and dried tomato will work well with chicken marsala or eggplant Parmesan, and a Greek orzo-pasta salad pairs naturally with spanakopita. Serve Chinese sesame noodles alongside an Asian stir fry, and a Southern-style macaroni salad with brisket.
References
Resources
Writer Bio
Devra Gartenstein is a self-taught professional cook who has authored two cookbooks: "The Accidental Vegan", and "Local Bounty: Seasonal Vegan Recipes". She founded Patty Pan Cooperative, Seattle's oldest farmers market concession, and teaches regular cooking classes.