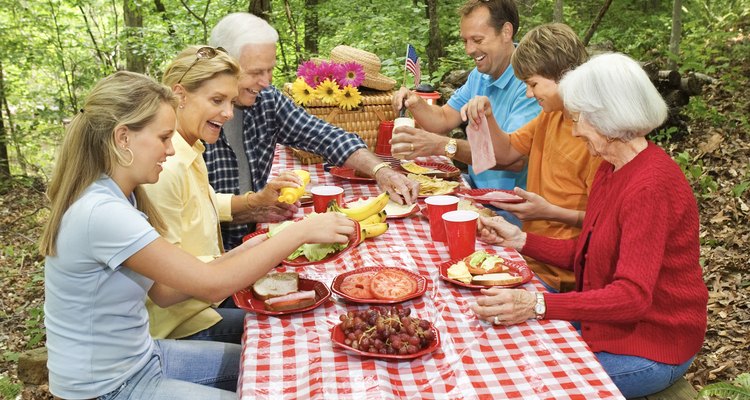 Thinkstock/Comstock/Getty Images
Making dinner for a church youth group involves more than just putting food on the table. You have to provide something the young guests will actually eat, and more than likely, you have to do it on a budget. Appeal to the youths by choosing mellow-flavored dishes, such as spaghetti, over fiery or exotic dishes, such as peppered mango chicken. Keep the costs low by using cheaper ingredients, such as pastas or potatoes, to help stretch the more expensive meats and vegetables.
Main Dish
Lasagna takes some time to prepare, but it's a crowd-pleaser for most youths. Use ground turkey instead of ground beef to cut down on cost, and jarred sauce instead of fresh to cut down on preparation time. Grill hot dogs for a budget-friendly barbecue, and serve them on buns with all the fixings, including cheese, chili, relish, ketchup and mustard. Mix browned beef with a store-bought sauce to create a simple spaghetti dinner that's flavorful without being too spicy. Serve baked potatoes with cheese, butter, sour cream, chili, onions, lettuce and tomatoes at a do-it-yourself potato bar.
Hot Side Dishes
Mashed potatoes with butter is a simple side that suits teenager's tastes and goes with a variety of main dishes. Use instant mashed potatoes to take the quick route or invest a little time in homemade mashed potatoes. Either way, the dish is budget-friendly. French bread with melted cheddar cheese between each slice is a gooey option with a hint of sweet flavor. Baked beans mixed with brown sugar is a low-cost option with a blast of sweet flavor, while homemade macaroni and cheese appeals to people of all ages.
Cold Side Dishes
A garden salad with lettuce, carrots and cabbage is an easy side dish to throw together. It suits a variety of tastes, as long as you serve it with a selection of dressings. Potato and green bean salad, with ranch or mustard dressing, provides a creamy addition to any teen dinner menu. Pasta salad with tomatoes, celery, cheese and vinaigrette dressing is a tangy option, while three-bean salad with banana peppers is quick to create and offers a hint of spicy flavor without being overwhelmingly hot.
Dessert
Bars and cookies tend to be quicker and cheaper to create than frosted cakes and cupcakes when it comes to desserts for a large group. Bake brownies or chocolate chip cookies for a classic treat. Go with lemon bars or orange blondies for a tangy sweet ending. Serve oatmeal-raisin cookies or peanut butter cookies for a home-style sweet.
References
Writer Bio
A writer since 2000, Aya Pauli has covered a variety of topics including food, fashion, beauty, health, parenting, education, decor and crafts. Her award-winning recipes have been published in food magazines such as "Taste of Home," and she is also the author of a salad cookbook. Pauli's craft projects appear in major manufacturer websites, including Dow Styrofoam. She also holds a CDA in early childhood education and works as a preschool teacher in Wyoming.
Photo Credits
Thinkstock/Comstock/Getty Images