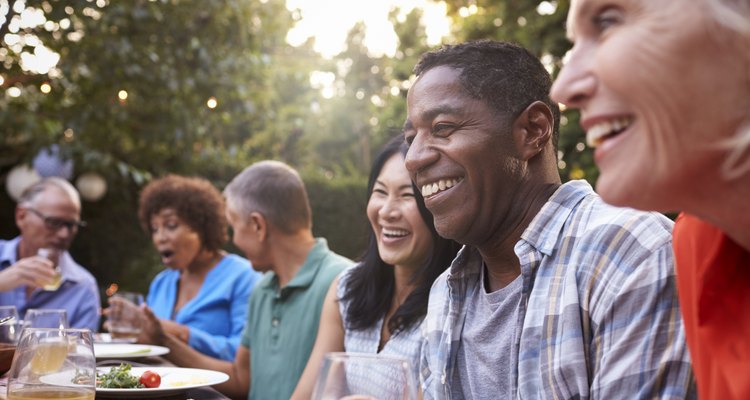 monkeybusinessimages/iStock/GettyImages
Barbecue brisket is a hearty main dish with a rich flavor. Brisket, which is cut from the chest area, is a tender piece of meat with a strong beef taste. Topping the meat with barbecue sauce makes the flavor all the richer. The sauced brisket remains almost as versatile as regular brisket when it comes to side dishes. From buttery breads to garden vegetables, there are brisket sides to suit any mood.
Bountiful Breads
Bread not only pairs well with the barbecue brisket flavor, it helps soak up the extra sauce. Cover thick-cut toast with butter and garlic powder to make a classic side that goes with any kind of sauce. Stir sun-dried tomatoes, parsley and basil into wheat rolls for an Italian-style twist. Sprinkle pepper Jack cheese over breadsticks to give the meal a spicy kick. Smear honey butter over cornbread to make a sweet side that helps mellow the flavor of a spicy barbecue brisket.
Beautiful Beans
Hot or cold, beans are a traditional barbecue side that pair well with any cut of beef, including brisket. Mash pinto beans, garlic powder, onion powder and salt together to create refried beans. Mix kidney beans, garbanzo beans, navy beans, celery, onions, tomatoes, olive oil, vinegar and sugar for a tangy bean salad. Simmer black beans in salsa and mix with sour cream to create a creamy side that goes with sweet or spicy barbecue brisket. Cook kidney beans, tomato sauce, cheddar cheese, chipotle powder, chili powder, garlic and onion together for a chili-flavored side dish.
Versatile Vegetables
Steamed until soft or served raw, there are many garden vegetables that complement barbecue brisket. Toss shredded carrots, shredded cabbage, diced radishes and Italian vinaigrette together for a coleslaw side with tang. Steam green beans with lemon juice, butter and minced garlic to make a mild flavored dish that pairs well with any barbecue sauce. Saute baby squash, tomatoes and zucchini in parsley and olive oil for a light side. Mix baby spinach, apples, walnuts, celery, onions and raspberry vinaigrette for a sweet salad that helps soothe the fire of spicy brisket.
Precious Potatoes
Potatoes add a punch of substance to any barbecue brisket dinner. Stir diced new potatoes with ranch dressing, chives, celery and garlic for a creamy potato side that helps calm the bite of spicy barbecue sauce. Mash sweet potatoes with butter, brown sugar and cinnamon to create a powerfully sweet side. Sprinkle Yukon potato wedges with smoked paprika and bake to make home fries with a hint of woodsy flavor. Cook sliced baking potatoes in a cheddar cheese and sour cream sauce for gooey scalloped potatoes.
Writer Bio
A writer since 2000, Aya Pauli has covered a variety of topics including food, fashion, beauty, health, parenting, education, decor and crafts. Her award-winning recipes have been published in food magazines such as "Taste of Home," and she is also the author of a salad cookbook. Pauli's craft projects appear in major manufacturer websites, including Dow Styrofoam. She also holds a CDA in early childhood education and works as a preschool teacher in Wyoming.