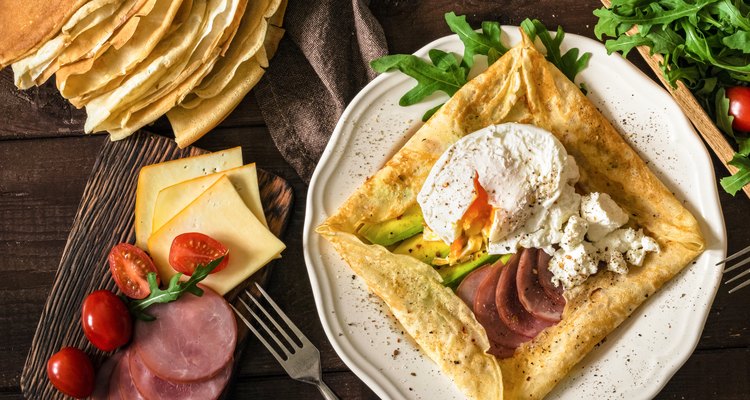 Arx0nt/iStock/GettyImages
Crepes are often associated with dessert, but when stuffed with a variety of savory fillings they make a meal that's fun and versatile. Kids will love the idea of eating pancakes for dinner, while crepes are also elegant enough for adults. You can make crepes ahead of time and store them in the freezer for quick and easy meals on busy nights.
Breakfast
Crepes filled with scrambled eggs, tomatoes and cheese are a lighter take on breakfast burritos. Add a dash of dry ranch dressing and seasoning mix for a flavorful surprise. Serve with fruit and milk for a complete breakfast. Crepes are often made with all-purpose flour but a traditional French version calls for buckwheat flour in addition to white flour. Stuff with bananas sprinkled with cinnamon, top with a dollop of vanilla yogurt and serve with applesauce for a sweet but healthy breakfast.
Lunch
There is no way to make a boring lunch when so many combinations of meats, vegetables and cheese can be stuffed into a crepe. Shredded chicken with ricotta cheese and spinach or kale is a good way to get dark, leafy greens into kids. A little spicy ranch salad dressing kicks up the flavor. On cold days, serve tomato soup with crepes filled with ham and cheese for dunking. Go a little crazy and make pizza crepes with tomato sauce and cheese along with favorite toppings, such as lean hamburger, peppers, olives and mushrooms. For kids who don't like to stray far from traditional lunches, fill crepes with peanut butter and jam and serve with fruit salad.
Dinner
For a different take on dinner crepes, make them with cornmeal and fill with enchilada sauce, cheese and shredded pork or beef. Serve with rice, beans and pico de gallo for a Mexican-inspired meal. For a simple meal, use rotisserie chicken purchased at a deli or grocery store to fill crepes. Saute asparagus or zucchini to go with the chicken and use feta or Parmesan cheese. Serve with a green salad and a creamy dressing for a fast dinner on busy nights. Crepes also work well as a side dish for dinner. Stuff with a mix of sauteed vegetables and serve with quick-cooking fish fillets for a light, healthy meal. A spoonful of creamy dressing instead of tartar sauce helps tie it all together.
Dessert
Dessert doesn't have to be loaded with sugar to be a sweet treat. Fill crepes with fresh fruit, such as apples, pears, bananas or mandarin oranges, and top with vanilla yogurt for a healthy end to a meal. Crepes filled with fresh, sliced strawberries and just drizzled with chocolate are a treat, as are peach crepes with a spoonful of whipped cream. For a really quick treat sure to meet with approval from kids, spread jam or preserves on crepes and roll up in tubes.
References
Writer Bio
Since 1997, Maria Christensen has written about business, history, food, culture and travel for diverse publications. She ran her own business writing employee handbooks and business process manuals for small businesses, authored a guidebook to Seattle, and works as an accountant for a software company. Christensen studied communications at the University of Washington and history at Armstrong Atlantic State University.