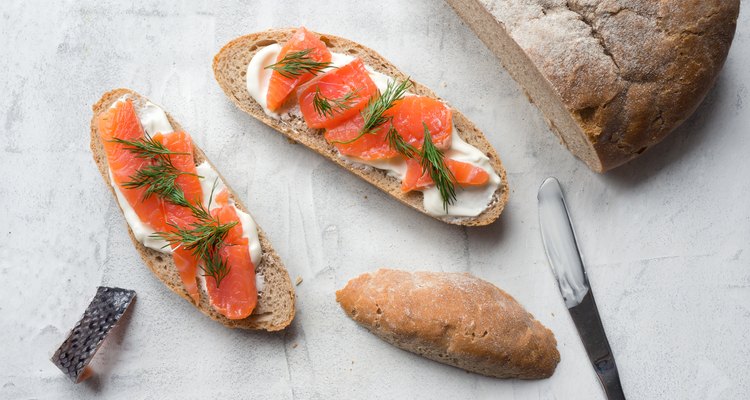 Eugene03/iStock/GettyImages
Velvety cream cheese and smoked salmon is a delectable pairing that you can eat as an appetizer, in a sandwich or even for breakfast. Depending on how you choose to serve it, a variety of breads exist that you can use with this duo. From the classic bagel to crispy crackers or a thick, rustic loaf, many delicious options can be used to showcase smoked salmon and cream cheese.
Breakfast and Brunch
Bagels are the gold standard when it comes to serving cream cheese and smoked salmon but they are not the only breakfast option. Toasted English muffins are another delicious base for this duo. For a chic brunch dish, serve smoked salmon with a dill cream cheese on croissants. Adding thin slices of cucumber and red onion dresses up your dish while adding flavor and crunch. Another elegant brunch option is to make tiny tea sandwiches. Lightly toast white bread. Cut off the crusts and spread a layer of softened cream cheese, a few capers, finely cut green onions and salmon. Cut the sandwiches into quarters and serve with mimosas for a decadent brunch.
Wraps and Flatbreads
The combination of smoked salmon and cream cheese works well for wraps. Use whole-grain tortillas to make these even healthier. Spread cream cheese onto the wrap, add leaves of lettuce or fresh spinach, thinly sliced red onion and sliced Roma tomatoes. Add slices of salmon and then wrap it up, making sure to enclose the filling. Slice it in half for easier handling. Flat breads make an easy base for salmon rolls. Cut the flat bread into a long strip and spread with cream cheese. Add fresh dill and thin slivers of salmon. Starting at one end, tightly roll up until you reach the other side. These can also be sliced into smaller rolls, pierced with a toothpick to keep the roll intact and served as an appetizer.
Crispy Crackers and Toasts
Crisp melba toast makes a sturdy base for this pair. Blend softened cream cheese with a bit creme fraiche, a squeeze of lemon, and chopped chives. Spread onto the toast and top with smoked salmon and a sprig of dill for a chic appetizer. The nutty flavor of sesame crackers is another good base for salmon. Top the cracker with a layer of cream cheese blended with a touch of horseradish. For an elegant touch, you can roll salmon slices into a rose shape and place onto the cracker. Add a few capers for another tasty appetizer. Rye crisps are another good option for smoked salmon and cream cheese. The rye flavor blends well with cream cheese and salmon.
Rich Dark Breads and Whole Grains
Slices of dark pumpernickel bread work deliciously well for salmon sandwiches. For a hearty sandwich, top the pumpernickel slices with cream cheese, onion, cucumbers, thin slices of radish and salmon. You can also use slices from the bite-sized, pumpernickel party loaf found in your grocery store to create luscious appetizers. For a twist on this pairing, blend chopped salmon into softened cream cheese. Fold in chopped dill, salt and pepper and a bit of lemon zest. Spread onto party bread and garnish with a sprinkling of dill. Thick rustic, whole grain bread makes a great base for open-faced sandwiches. Brush a light layer of olive oil onto the bread and then toast the bread. Blend cream cheese with finely chopped onion, a touch of garlic and a squeeze of lemon. Spread the mixture onto the bread and top with slices of salmon. Serve with thinly sliced red onion, capers and lemon wedges for an elegant meal.
References
Writer Bio
Candi Canncel is a writer covering food and drinks, travel and lifestyle. Her work has appeared on Food and Wine Travel, Craft Gossip, Belltown Local and other publications. She also teaches cooking classes and hosts food/wine seminars.