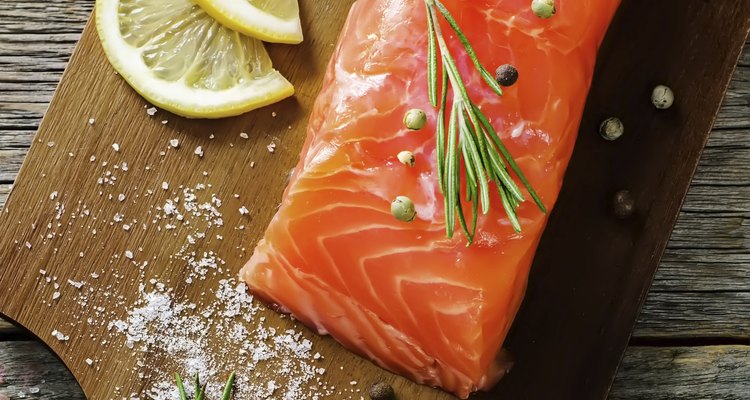 nata_vkusidey/iStock/Getty Images
Salmon makes a healthy dish, and is a versatile fish. Its flavor is robust and holds up to just about any other flavor that is added to it. Stuffing salmon adds another dimension of flavor and presentation to this already popular fish. Rolled salmon can be cooked in many of the same ways as a flat fillet. Choose salmon fillets that are thin or slice a thick fillet in half length-wise to use for rolling.
Preparation
Lay the skinned salmon fillets on a workable surface.
Spread your desired filling ingredients in a thin layer over the entire surface of the fillets.
Begin at the tapered end of the fish, and roll it, jelly-style, toward the other end.
Secure the rolled, stuffed salmon with soaked kitchen twine by firmly tying both ends of the rolled fish.
Bake
Preheat the oven to 400 degrees Fahrenheit.
Lightly grease a baking dish with nonstick cooking spray or olive oil.
Place the stuffed, rolled salmon fillets in the baking dish.
Drizzle olive oil over the top of the salmon, and sprinkle breadcrumbs over the top, if desired.
Cover the baking dish with aluminum foil, and bake the salmon in the oven for 30 to 40 minutes.
Grill
Preheat the grill to medium heat.
Grease the grill grates with nonstick cooking spray or olive oil.
Place the stuffed, rolled salmon fillets on the grill, and cook for 10 to 15 minutes.
Turn the salmon fillets over, and cook for another 10 to 15 minutes.
References
Writer Bio
Nicole Adams is an accomplished writer, publishing in print and online. She has submitted hundreds of articles for websites, including CBS Local and Education.com. Adams earned a Bachelor of Science in psychology with concentrated studies in health and nutrition, and animal behavior and nutrition. She loves to cook and volunteers in animal rescue.
Photo Credits
nata_vkusidey/iStock/Getty Images