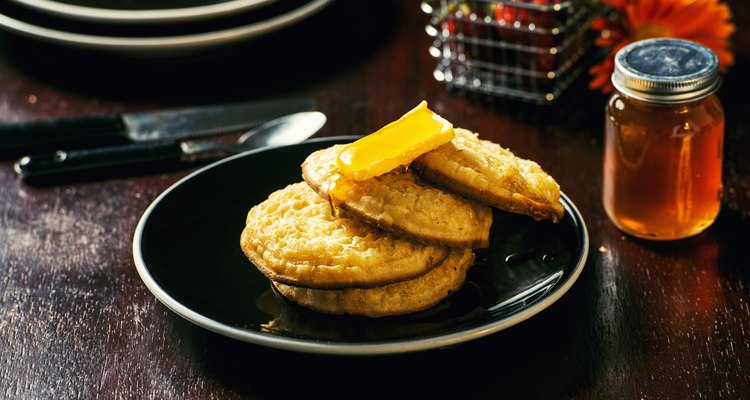 RobertDowner/iStock/Getty Images
Crumpets are griddle cakes that look like a cross between American pancakes and English muffins, but they generally have a moister, denser texture. Traditionally cooked only on one side, crumpets typically have crunchy outsides and spongy insides. Crumpet batter includes baking powder as an ingredient, which leaves the griddle cake riddled with tiny holes. These holes allow butter and toppings to melt down into the cake, making for a succulent treat. You can eat crumpets with various toppings and spreads.
Keep your crumpets simple. Crumpets originated in the United Kingdom, and British folks often top this griddle cake with just simple butter. If you find that plain butter tastes too bland, shake a bit of salt and pepper onto the crumpet.
Eat crumpets as a teatime snack. Top your hot crumpets with butter and your favorite jam, jelly or marmalade. Use a little bit of lemon curd for a richer flavor. Wash your crumpets down with a cup of black tea for a satisfying, British-inspired snack.
Make a crumpet breakfast sandwich. Slice your crumpet in half and butter it. Add bacon, cheese and eggs for a protein-rich breakfast. Scrambled, fried and poached eggs all taste great with crumpets.
Make savory crumpets for lunch. Slice your buttered crumpet in half and add almond butter, peanut butter or cashew butter for a high-protein sandwich. Make a quick lunch by topping a crumpet with grated cheese, a slice of tomato and pickles.
Use crumpets as appetizers. Cut toasted crumpets into bite-sized pieces. Top these pieces with hummus or olive tapenade for an quick and easy appetizer.
Eat crumpets for dessert. Butter your crumpet and top it with a few berries, banana slices, cherries, raisins or thinly sliced apple pieces. Drizzle your crumpet with a little honey to make it even sweeter.
References
Resources
Tips
The FitDay website reports that one large crumpets contains about 115 calories and less than 1 g of fat.
Warnings
Check the ingredients in commercial crumpets if you follow a vegan lifestyle. Although most crumpets are made without any dairy products, a few companies use powdered milk as an ingredient.
Photo Credits
RobertDowner/iStock/Getty Images