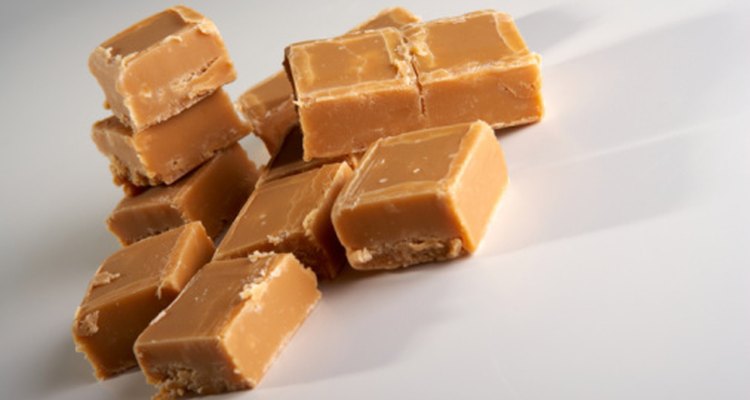 Jupiterimages/Photos.com/Getty Images
Powdered sugar is simply granulated sugar that's ground very fine. It's much sweeter than granulated sugar, and often is mixed with an agent to keep it from clumping. Because of this addition of flour or baking powder, powdered sugar is almost exclusively used in baking and candy making. Make your own powdered sugar by passing granulated sugar through a clean coffee grinder.
Peanut Butter Fudge
Peanut butter fudge requires only three ingredients: peanut butter, powdered sugar, vanilla and butter. The result is a smooth, very rich confection that would satisfy any sweet tooth. Simply melt 8 ounces of butter and a cup of smooth peanut butter in a microwave, stir in a pound of powdered sugar and a teaspoon of sugar. Spread the mixture in a pan and let cool, then cut the fudge into squares. This makes a great gift.
Fondant
Fondant is a smooth, classy cake frosting that you roll out rather than spread on. It produces a cake that looks beautiful and professional. A simple fondant can be made by melting a one pound bag of miniature marshmallows with two tablespoons of water, then blending in two pounds of powdered sugar. Mix it up with generously greased hands, kneading until you have a smooth, sweet frosting dough you can roll out and apply to a cake.
Frosting
A simple, sweet and fluffy frosting is made by mixing powdered sugar with butter and milk. Just blend a pound of powdered sugar into a bowl with a half cup of soft butter and a half cup of milk, plus a little flavoring, until it combines into a soft frosting that makes cakes, cookies or brownies taste even better. Make peanut butter frosting by replacing the butter with half a cup of soft peanut butter.
Mexican Wedding Cake Cookies
Mexican wedding cakes are actually small round butter and nut cookies. What makes them special is that they're both made with powdered sugar, rather than granulated, and then rolled or dusted with more of the sweet stuff. After the cookies, which have a taste and texture similar to shortbread, are rolled into balls and baked, they're tossed in a bowl of powdered sugar. An alternative is to sift powdered sugar over them.
References
Writer Bio
Shaunta Alburger has been a professional writer for 15 years. She's worked on staff at both major Las Vegas newspapers, as well as a rural Nevada weekly. Her first novel was published in 2014.
Photo Credits
Jupiterimages/Photos.com/Getty Images