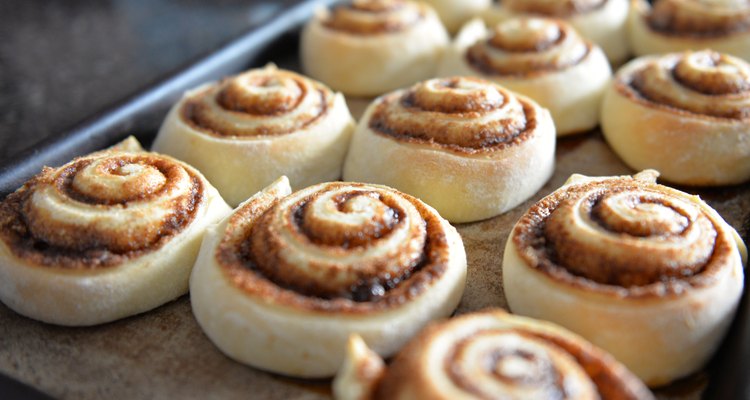 Kathariena/iStock/GettyImages
A Quick and Easy Version of the Classic Breakfast Pastry
Serve these cinnamon rolls warm from the oven or save them to pack for lunchbox snacks. The yeasted dough brings the comforting taste and feel of homemade pastry – but you only have to knead for a few minutes, and the dough takes less than an hour to rise. The glaze adds richness , but the rolls work well without it too, if you want to skip the extra step or the extra sugar. The unbleached white flour makes a light, fluffy cinnamon roll, but you can substitute some – or all – whole wheat flour for a denser, healthier pastry.
Total time: 1 hour 15 minutes | Prep time: 20 minutes | Serves: 8
1/2 tablespoon active dry yeast

3/4 cups warm water
1/2 teaspoon salt
3 tablespoons vegetable oil
2 1/4 cups unbleached white flour, and a few tablespoons extra for kneading
1/3 cup brown sugar
1 teaspoon ground cinnamon
1/2 teaspoon vanilla extract
1/3 cup melted butter
1/3 cup walnuts, finely chopped (optional)
2 tablespoons confectioners sugar
2 tablespoons whole milk
Dissolve the yeast in the water. Add the salt and vegetable oil. Add the flour, and knead on a floured surface for a few minutes, until the dough is no longer sticky. Set the dough aside in a warm place to rise for 30 to 40 minutes.

Meanwhile, prepare the filling by mixing the brown sugar, cinnamon and vanilla extract. Add the walnuts, if desired.
Heat the oven to 375 degrees.
Roll out the dough on a floured surface to make a rectangle about 6 inches wide and a foot long. Brush the dough with half the butter, then spread the cinnamon-sugar mixture on top of the butter, leaving about an inch of dough on each end. Roll to form a 12-inch log, and then trim the top and the bottom. Cut the log into 8 pieces to make the rolls. Transfer the cut slices to an oiled 9-by-13-inch pan with one of the cut sides from each piece facing up, showing the swirl. Flatten each one slightly with the palm of your hand.
Brush each roll with the remaining butter and bake for 20 to 30 minutes, until golden brown.
In a small saucepan, mix together the confectioners sugar and milk while the rolls are baking. Drizzle over the cinnamon rolls when they come out of the oven.
References
Writer Bio
Devra Gartenstein is a self-taught professional cook who has authored two cookbooks: "The Accidental Vegan", and "Local Bounty: Seasonal Vegan Recipes". She founded Patty Pan Cooperative, Seattle's oldest farmers market concession, and teaches regular cooking classes.